Increase your brand's efficiency with Dogfluence's powerful software
Dogfluence.com is an influencer platform that matches influential dogs with premium brands in the dog industry. In a nutshell, brands send products to influencers for free, in exchange for promotion, content and reviews. Where other platforms use scraped data, all profiles on Dogfluence.com are self-registered, legitimate and verified.

We like transparency. Check out our platform statistics here to see the reach of our community in countries that matter to your brand.
---
3 Main benefits 👇
1. Get promoted by top-notch dog influencers
Be cost-effective and diversify your marketing spend. Instead of expensive Meta ads, invest in your community, and get more reach through influential dogs.

Sponsor products, in exchange for authentic posts, stories, REELs & TikToks. You are guaranteed to highlight your brand to hundreds of thousands of dog owners.
2. Crowdsource authentic branded content

No more expensive media agencies and always a great timeline on Instagram. Spend no more time creating content. Instead, focus on building your business.
- High quality content for a fraction of the cost;
- Royalty-free content you can use anywhere;
- All neatly sorted for in your account.
3. Get (public) reviews & product feedback

Ask for product feedback and ask influencers to publicly review your brand online. You can expect a lot of 5-star reviews and this will skyrocket your brand's online reputation and help your SEO efforts as well.
- Improve your brand's online reputation;
- Improve your site conversion with reviews;
- Get feedback for product improvement.
---

---
📣 How the platform works in 5 steps
Step 1: Start a new campaign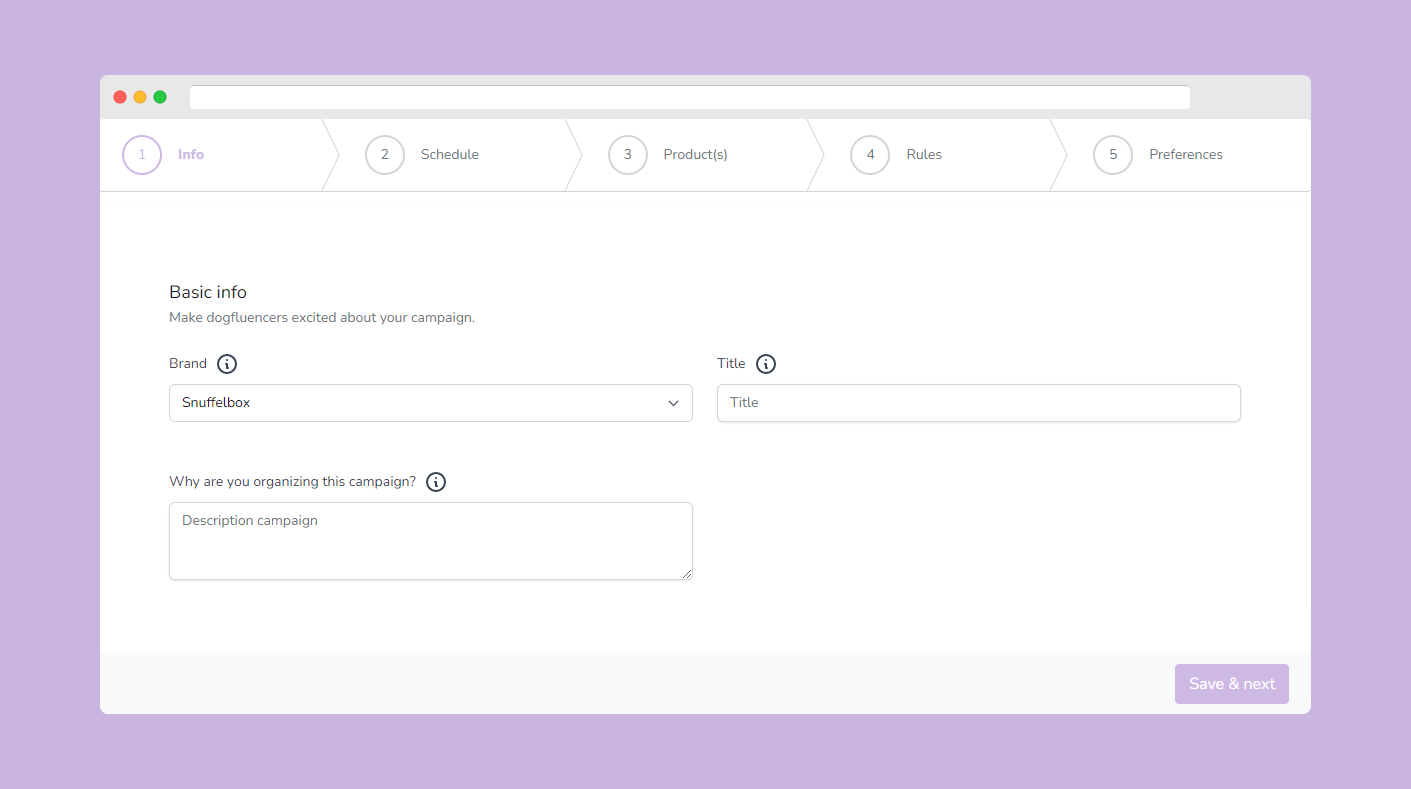 Create a brief in under 10 minutes with the 5-step Campaign Builder.
---
Step 2: Watch the applicants pour in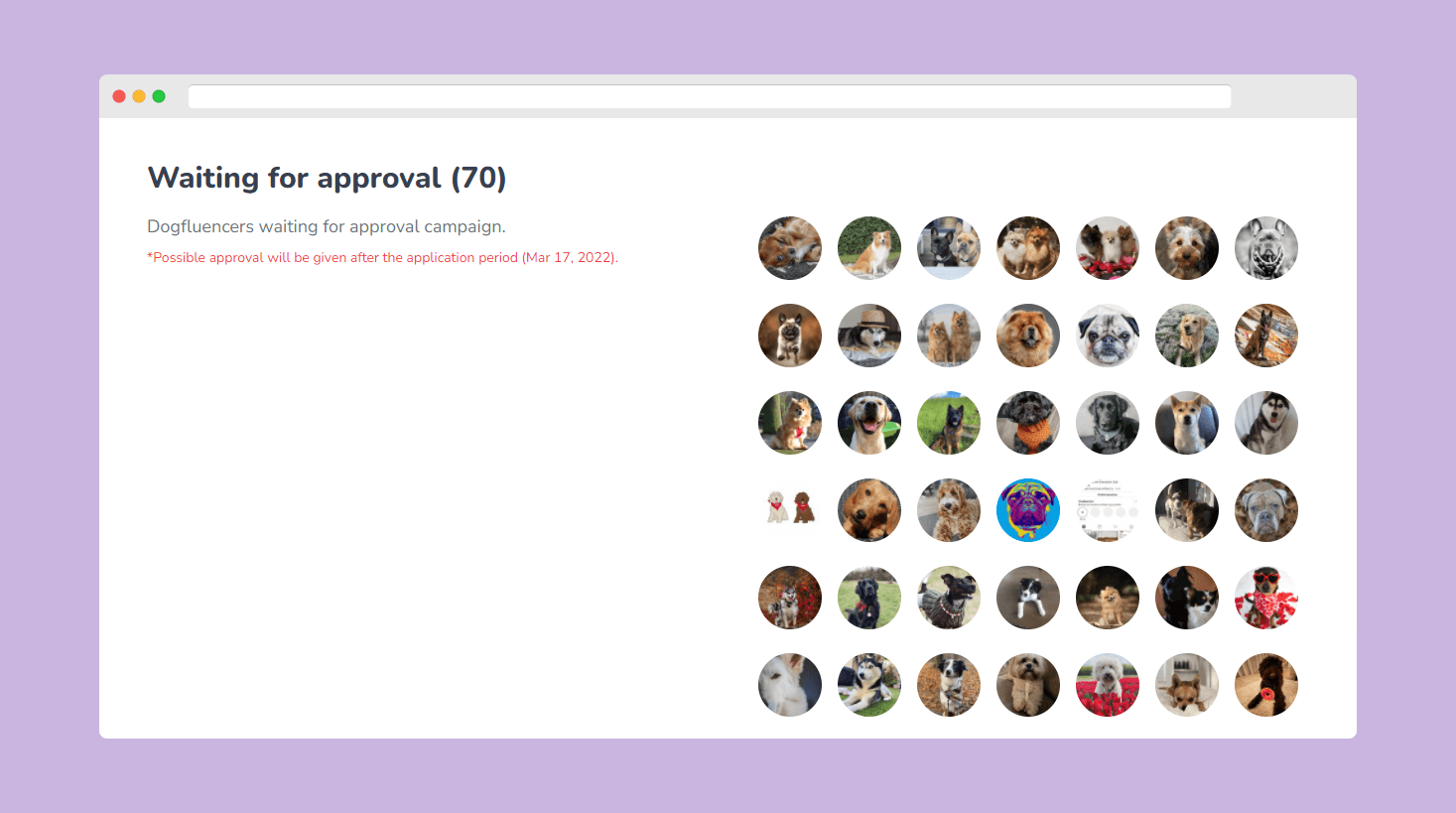 Check out profiles, hand-pick dogfluencers and send them your product. They create your branded content, promote your brand and write reviews and testimonials.
---
Step 3: Pick your dog influencers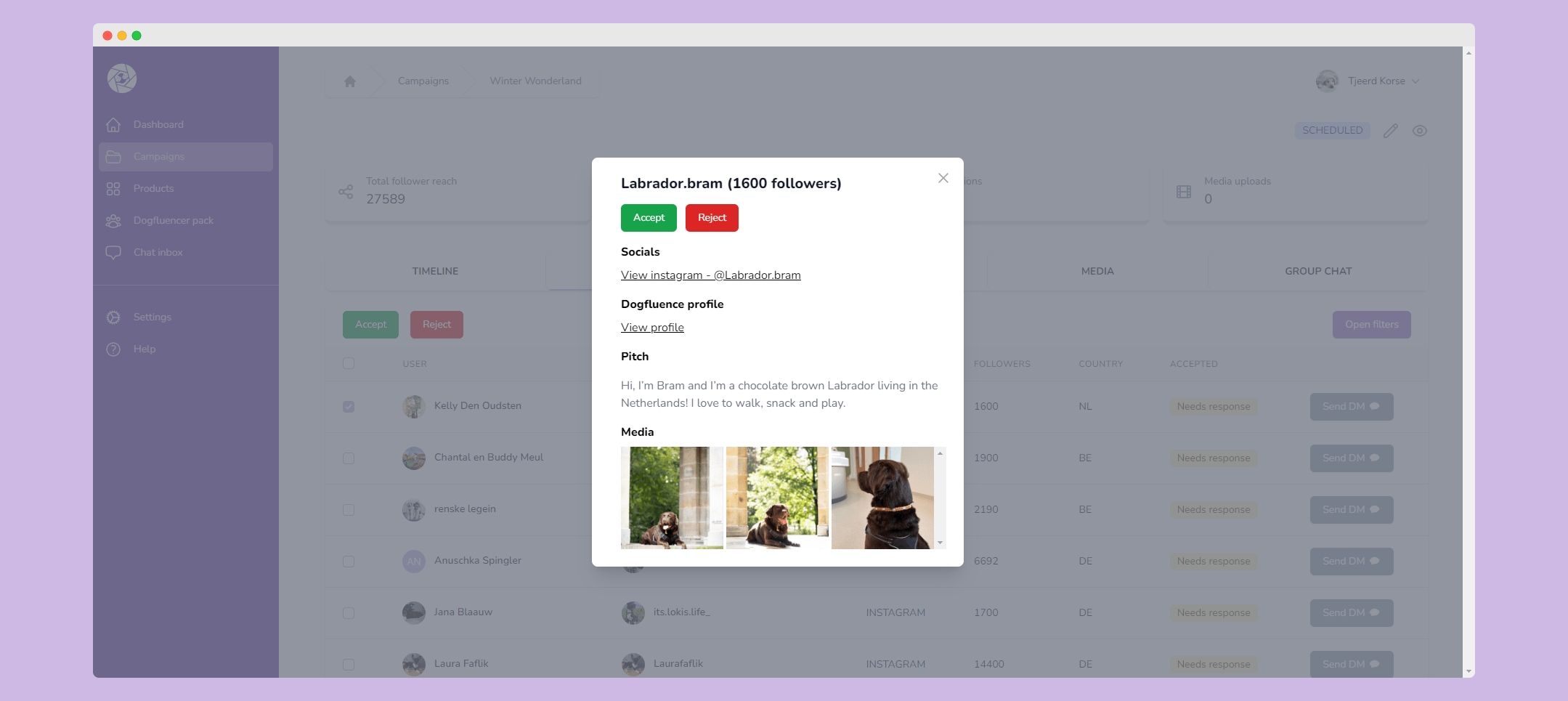 See who has signed up for your campaign. Review the account with our tools and accept or reject dog influencers.
---
Step 4: Track it all in one place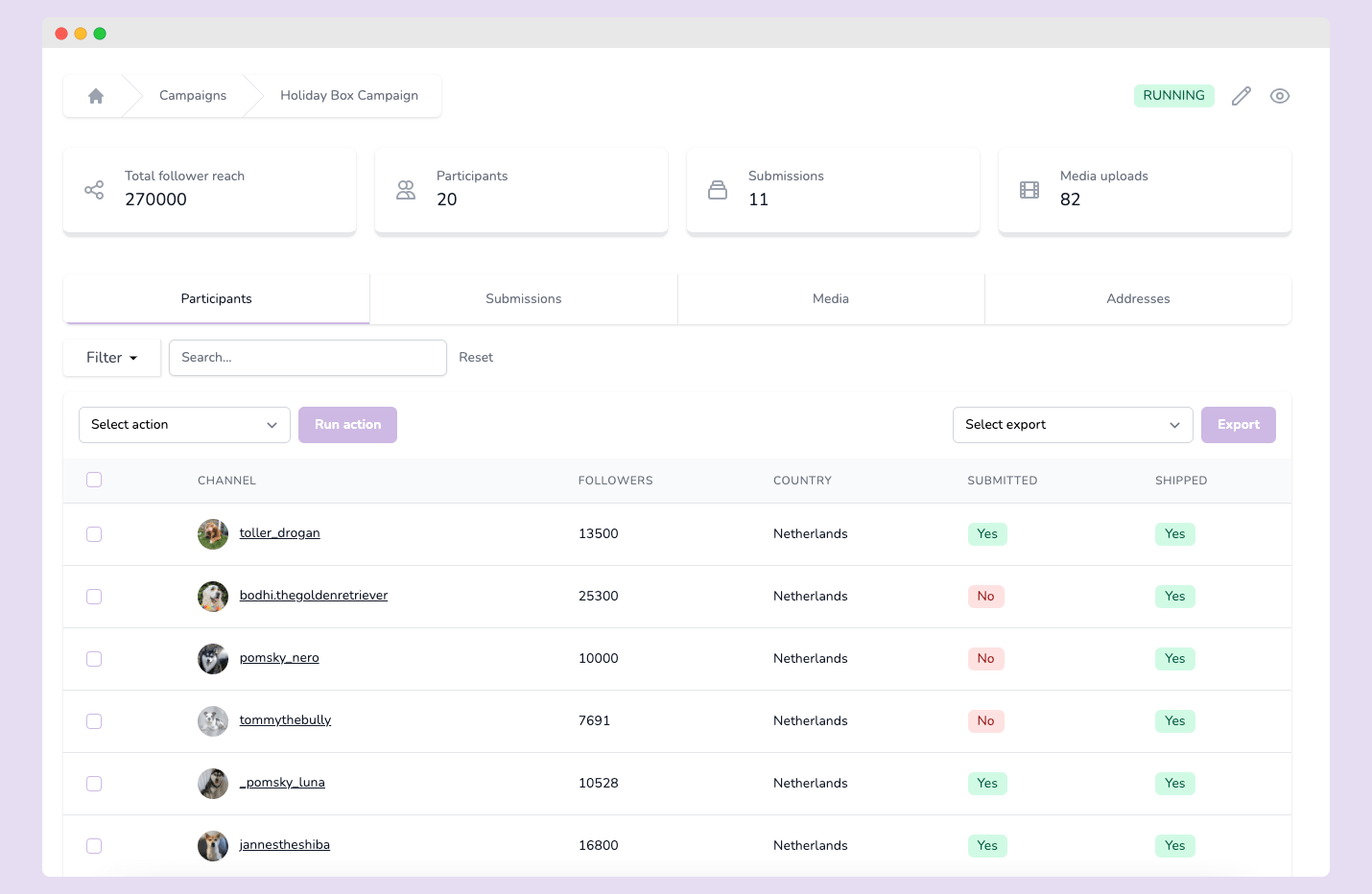 Seamlessly manage 100's of dogfluencers. Export shipping addresses, see who has already submitted, send reminders, download content and review dogfluencers.
---
Step 5: Utilize content and build your team.
Influencers upload hundreds of photos and videos to your account. You can view and download photos and videos per campaign and then use the material on social media, in your website or in magazines.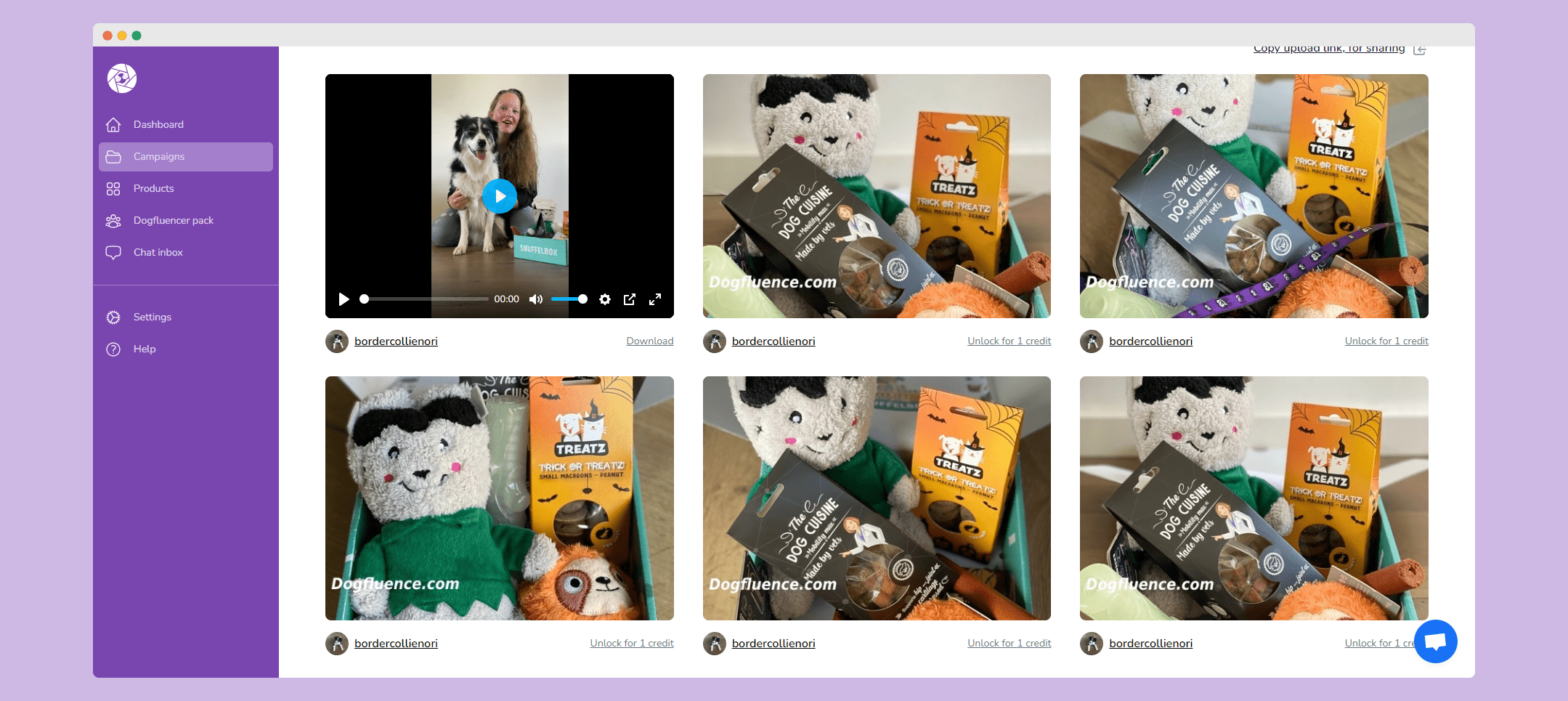 Are you satisfied with a dogfluencer? Add the him or her to your 'Dogfluencer Pack', so that he or she is already approved when picking dogfluencers for your next campaign.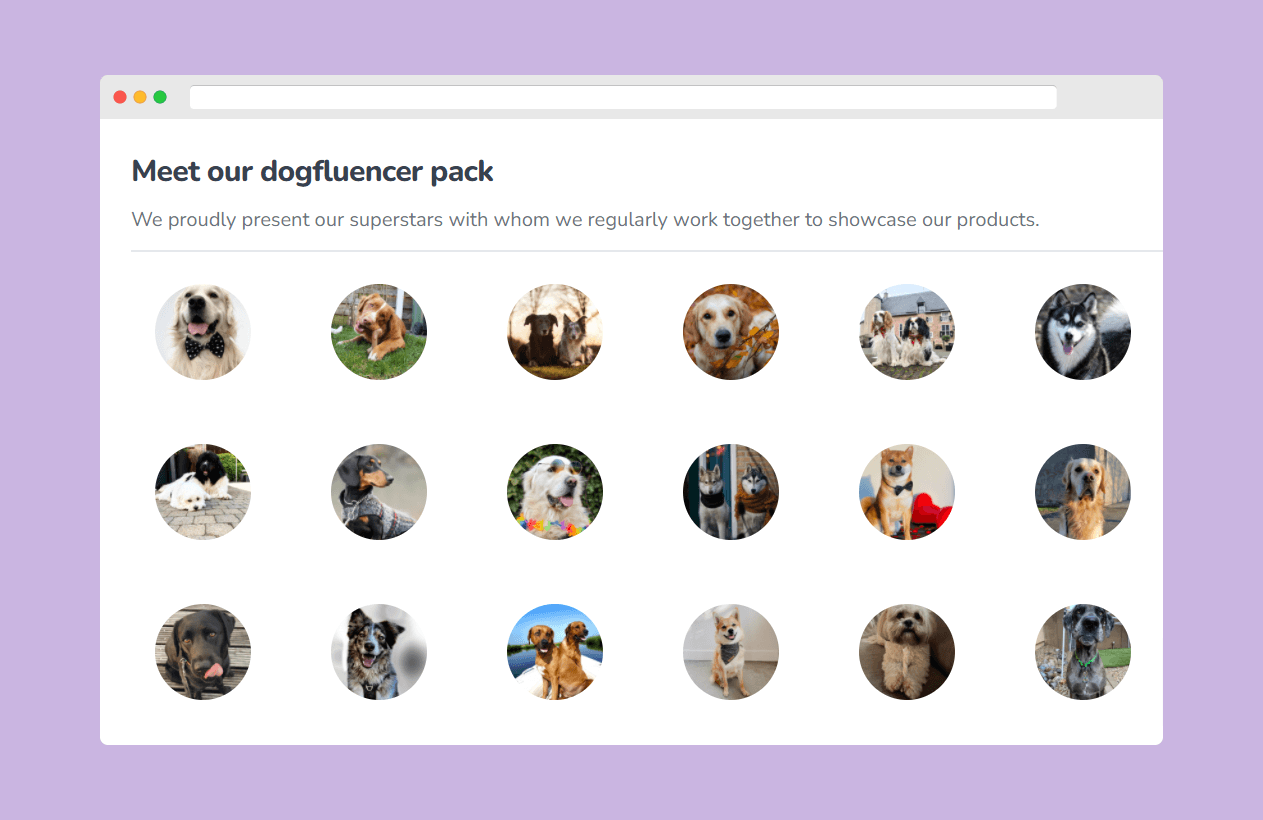 ---