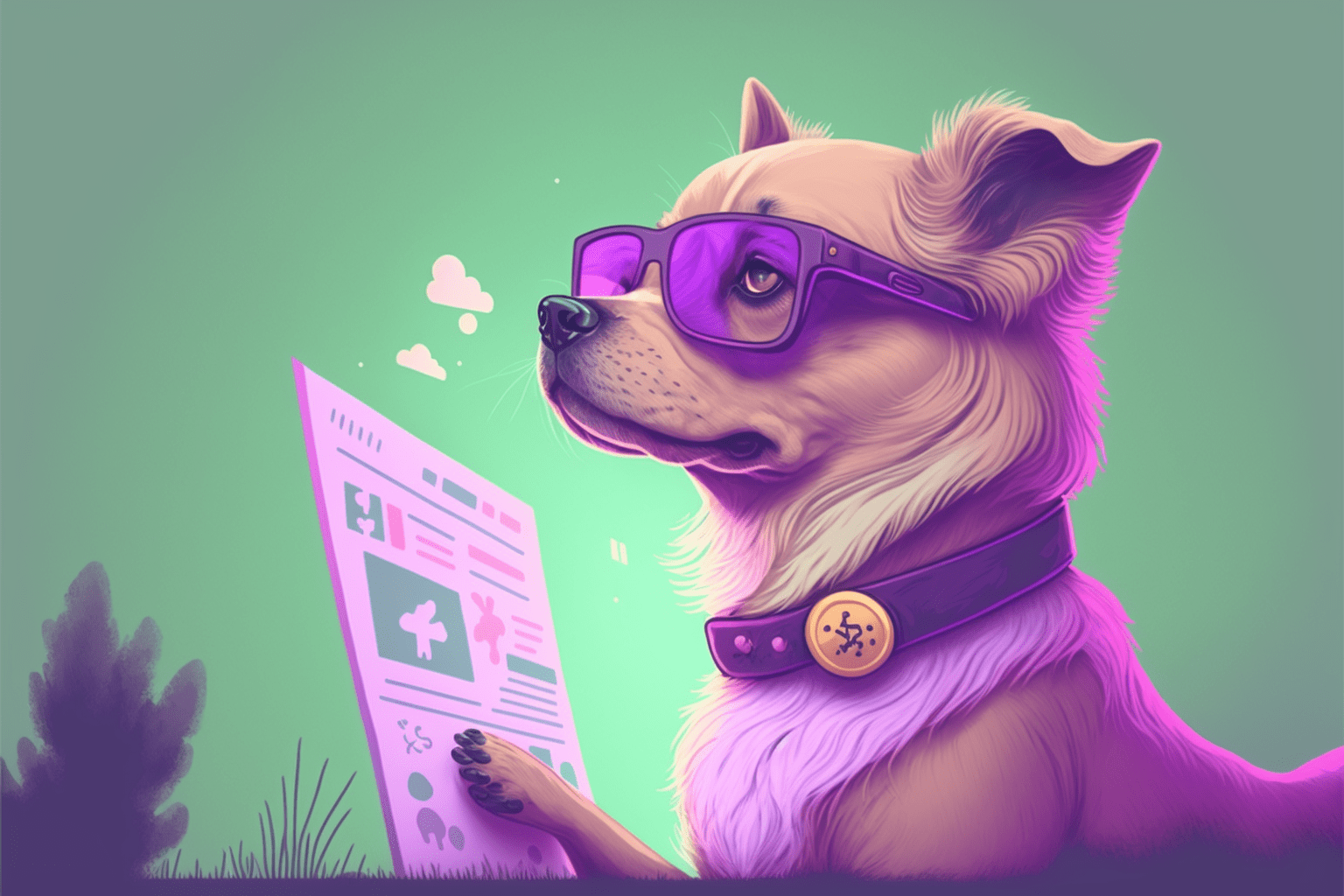 Are you as curious as most dogs and also fond of trying new things? Every day, in between all the walks, our owners and office dogs work hard to make the platform better for you. Sniff from top to bottom the most recent product updates.
---
Update dec. '22
Dashboard for dogfluencers (30 Dec. '22)
To improve the usability of the platform for dog influencers, we created a dashboard for them.
---
Campaign overview for dogfluencers (30 Dec. '22)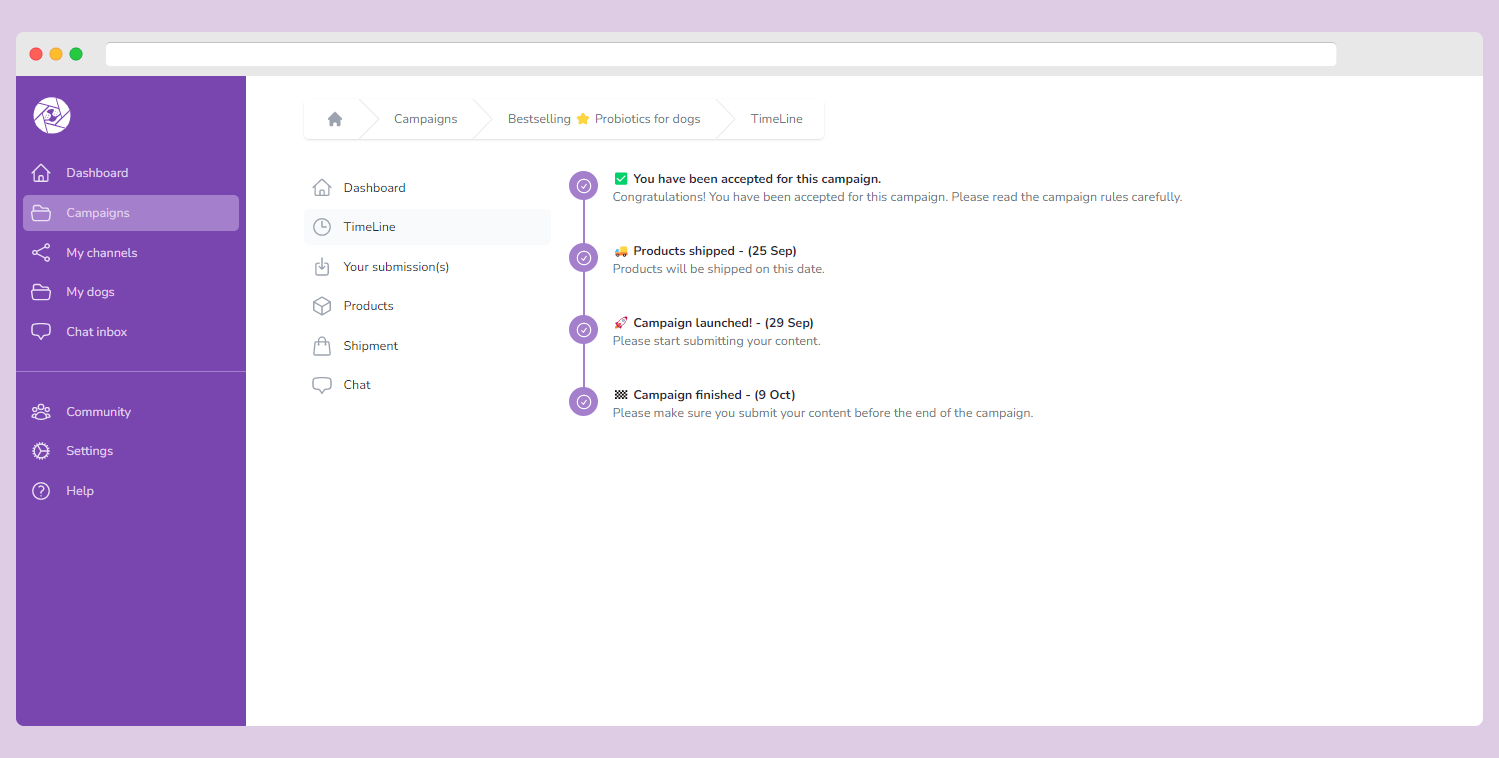 In dogfluencer accounts, each campaign now has an overview section so participants can see the overall timeline of the campaign, some info about submissions, possibly the product(s), shipment info and the group chat tied to the campaign.
---
Payments are here! (30 Dec. '22)
For dogfluencers
It has taken some time, but you can finally be financially rewarded for your hard work! As a dogfluencer, you can ask for a financial compensation when you apply for a campaign.

Easy & securePayments are always secure and always made as agreed. You will also receive a personal account where you will receive payment, which will then be paid out to your bank account. Make sure to register your preferred payout method through your account.
Not sure how much to ask?
We propose a rate based on your engagement rate, among other things.
Platform fee
Our platform fee is 20%, so when you ask $100,-, we will payout $80,-.
Brands
Brands can see the proposed amounts when picking dogfluencers for their campaign.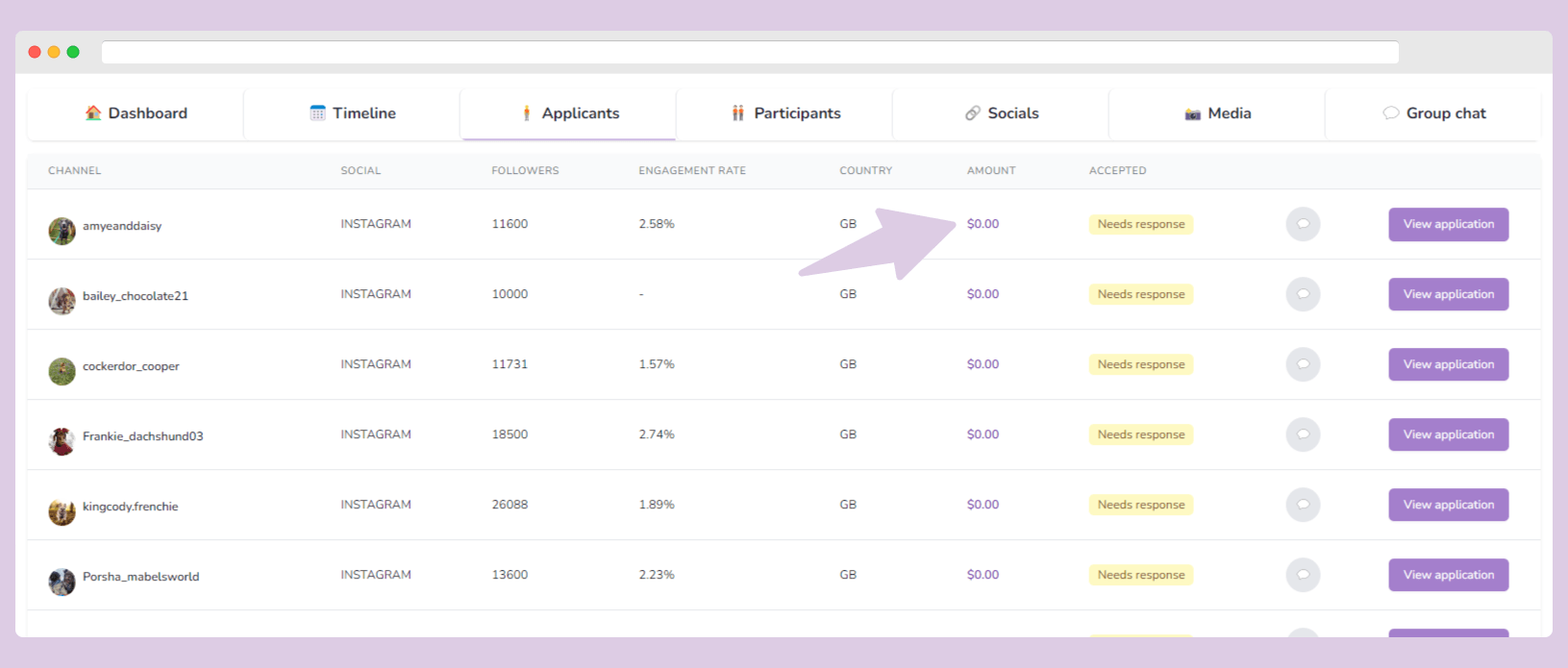 Once you accept a paid application, we will charge your credit card and hold the funds in escrow. As a business user, you can view the default payout date on the campaign dashboard. We will not pay out to dog influencers who have not submitted content.

Not satisfied with submission?If you are not satisfied with the submissions, you can request a revision from the dog influencer and file a complaint with our customer service team.
---
New campaign tabs for brands (30 Dec. '22)
We launched a new campaign dashboard for dog brands. The following screens are new:
Campaign stats

Total follower reach
This is the total number of followers in your campaign, including any overlap (which is a positive outcome as it means that your brand is being noticed multiple times).
Participants
The number of dogfluencers that participate in your campaign.
Submissions
The total number of submissions by participants.
Media uploads
The number of total media uploads.
Payout date
The date on which we payout dogfluencers.
Amount paid out
The total amount that gets paid out.
Amount on hold
The total amount that is still on-hold.
Amount refunded
This is the total amount that will be returned to your account when there is no submission or if you, as the brand manager, are not satisfied with the submission.
Socials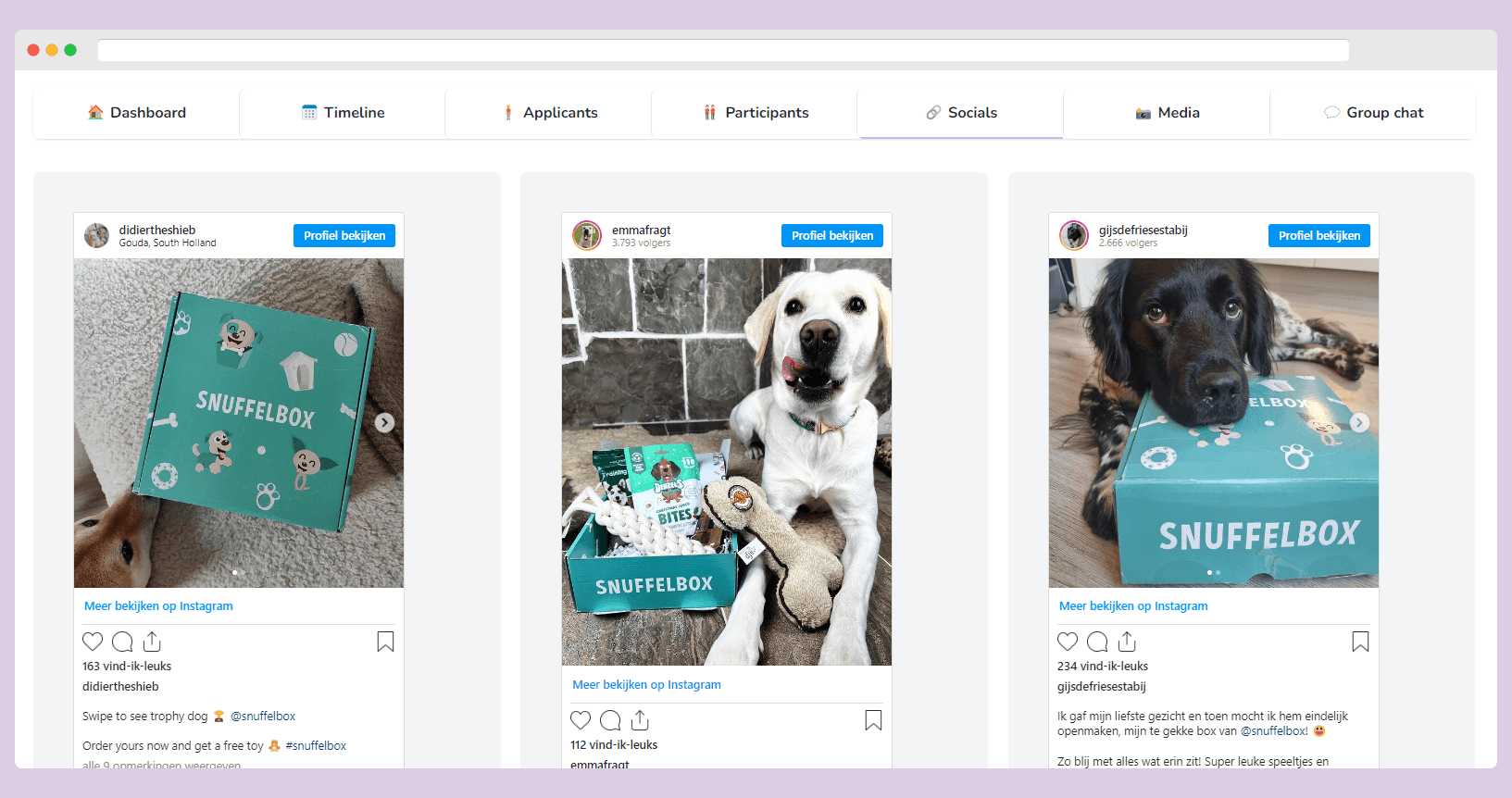 In the tab 'Social', you can now see all posts made by dogfluencers in your campaign, that are tied to the campaign or your brand. This allows brand managers to see what's happening on social media, without having to leave Dogfluence. It also enables them to be more responsive to posts.
In summary, we hope that the addition of these new tabs will give campaign managers a more comprehensive view of their dog influencer campaigns, enabling them to optimize their campaigns and achieve their marketing objectives more effectively.
---
Private campaigns (30 Dec. '22)

Brands can now create private campaigns that are not visible to web visitors. Dogfluencers that qualify for your campaign will get notified via email.
---
Non-product campaigns (30 Dec. '22)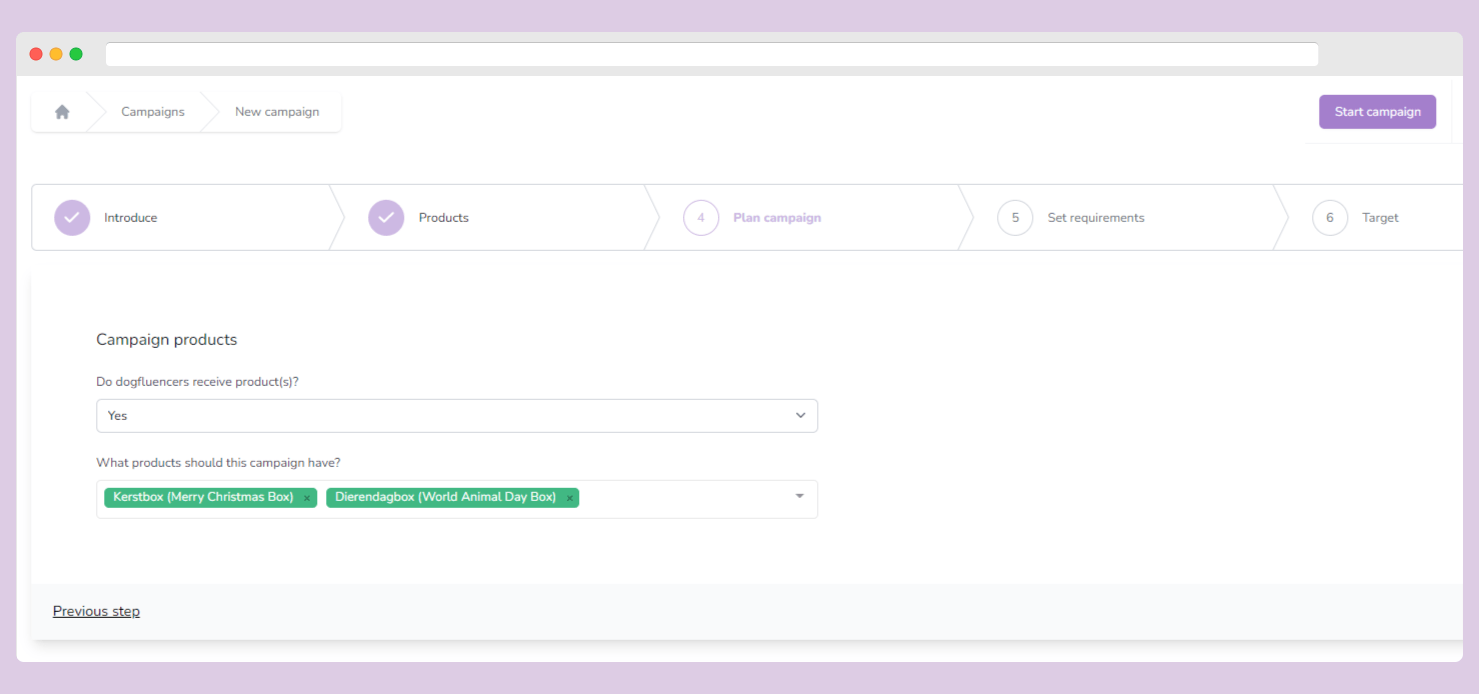 It's now possible to organize a campaign without sponsoring a product.
---
New dogfluencer metrics (30 Dec. '22)
When picking dogfluencers to work with, brands can now see the engagement rate + average likes of an account.
Engagement rate

Average likes
---
New community (2 Dec. '22)
Early December '22 we started Club Dogfluence. The community could serve as a platform for sharing information, resources, and support with one another, as well as for networking and collaborating.
In the most recent main platform product update there is also a new menu link in the account environment to quickly go to the community section.
---
Duplicate campaigns (1 Nov. '22)

We've added a 'duplicate' icon to copy a past campaign.
Brands can now easily duplicate a campaign, making it easier for them to launch a new campaign.
Contact dogfluencers more easily (1 Nov. '22)

Contact both applicants and participants more easily through the campaign interface.
---
Group chat is now read-only for dogfluencers (1 Nov. '22)
Previously, the group chat did not work optimally for dogfluencers because they received too many irrelvant notifications. Therefore, as of today, the campaign group chat is read-only for dogfluencers. Thus, only the brand (and our bot) can send messages to all participants in the campaign.
Dogfluencers can of course contact the brand via the DM functionality.
Furthermore, the profile photo + name now link to the DM-chat.
---
SMS-reminders to brands (1 Nov. '22)
As a brand manager, you have your hands full. Then you may forget to ship products on time. To prevent that from now on we will send an SMS reminder on the agreed shipping date.
---
Stricter participation policy (1 Nov. '22)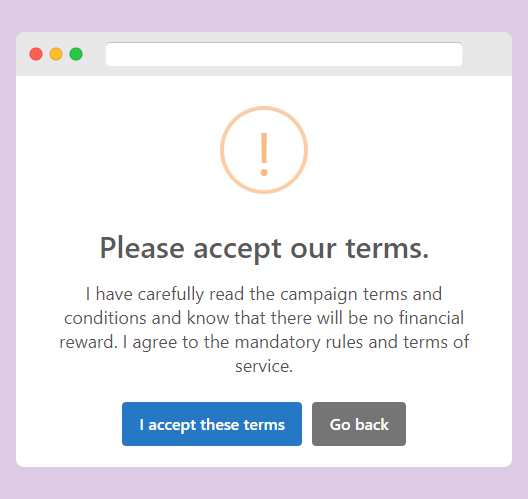 This modal pops up whenever a dogfluencer wants to register for a campaign.
We have found that about 65% of dogfluencers submit in full. To dramatically increase this percentage, we have taken the following measures:
When registering for a campaign, we display a modal that again explicitly points out the terms and conditions. Dogfluencers must agree to it. This creates greater awareness of responsibilities.

If a dogfluencer wants to register for a campaign, but he or she has not done 100% submissions in previous campaigns, the account cannot register for a new campaign. First, old submissions must be fully completed.

Reminders to submit via SMS to dogfluencers.
---
'Required submissions' bar (1 Nov. '22)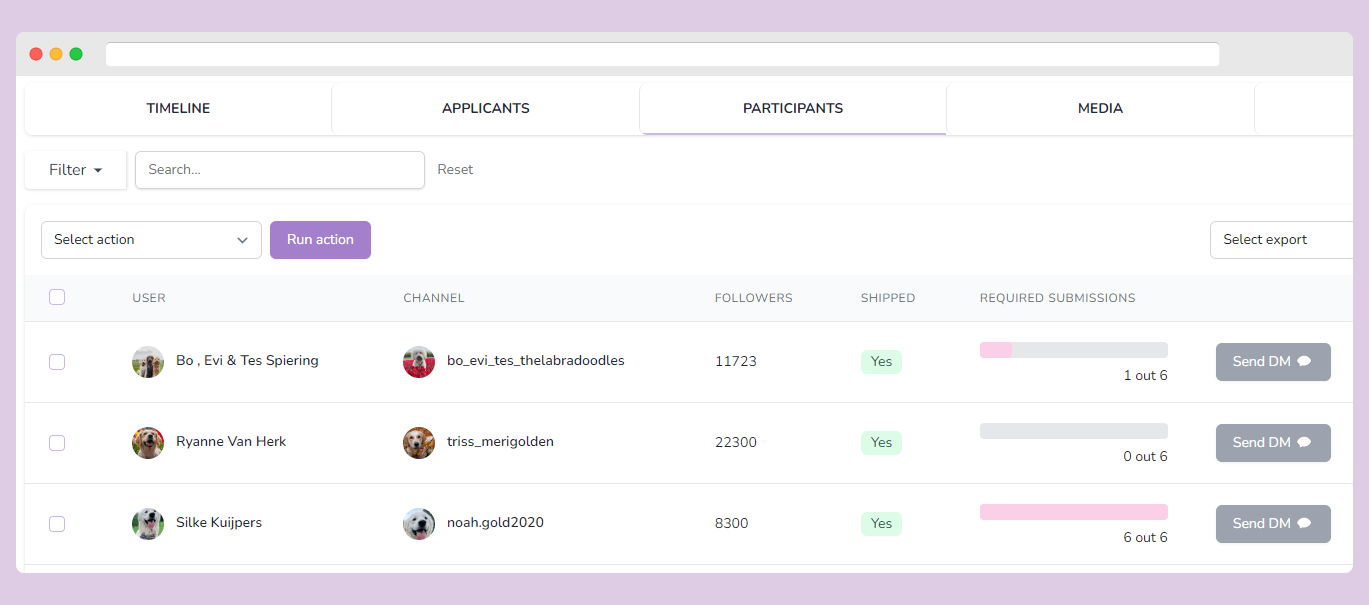 Required submissions bar.
In the brand account under campaigns > participants, you can now see - per dogfluencer - how many submissions are needed and how many have already been delivered.
---
Campaign info now blurred for logged out users (1 Nov. '22)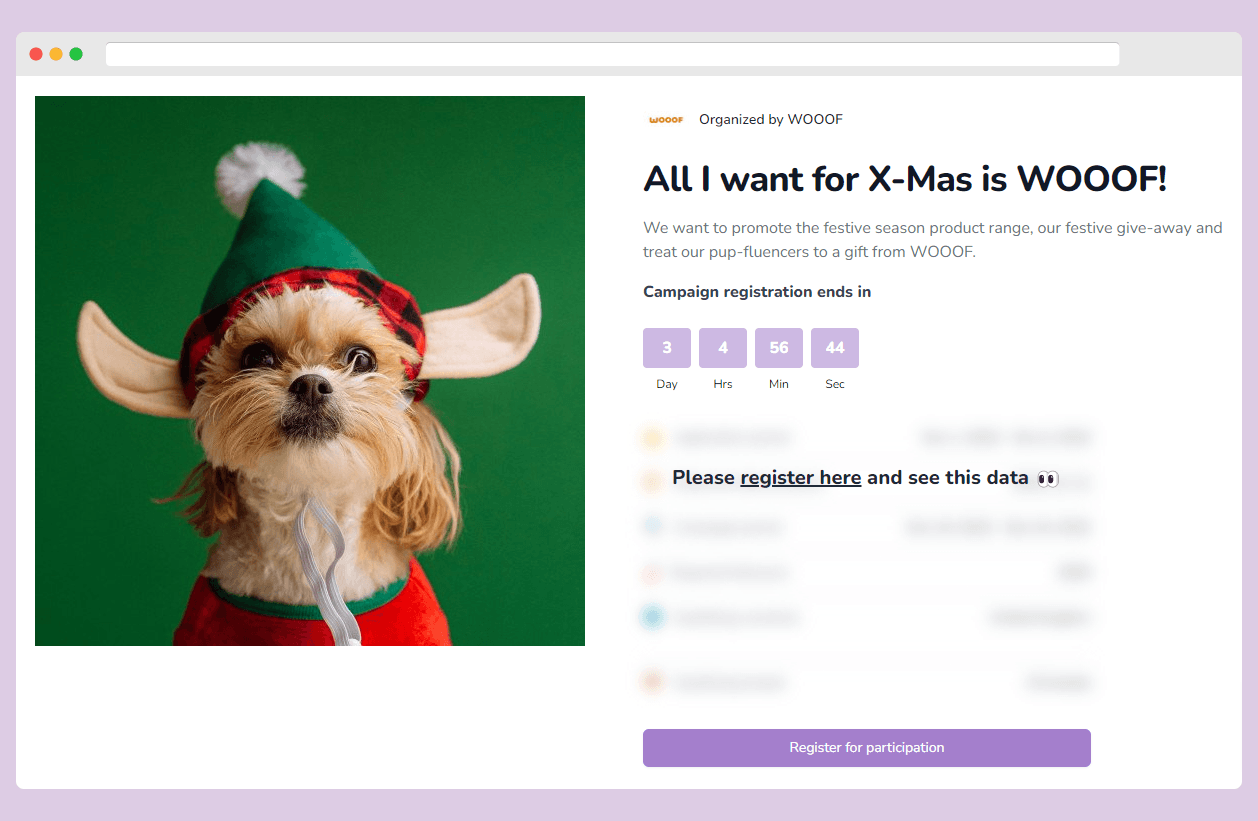 Campaign pages now have blurred data.
We want to encourage dogfluencers to apply. Previously, they didn't always do so because they didn't meet the targeting requirements such as number of followers, or there were too many campaign rules in the campaign.
The above is understandable, but a shame because dogfluencers might be interested in the next campaign on the platform, but because they didn't sign up they would never hear about it.
We hope to encourage more sign-ups with this adjustment and will monitor if that is the case.
---
Dates on campaign timeline (1 Nov. '22)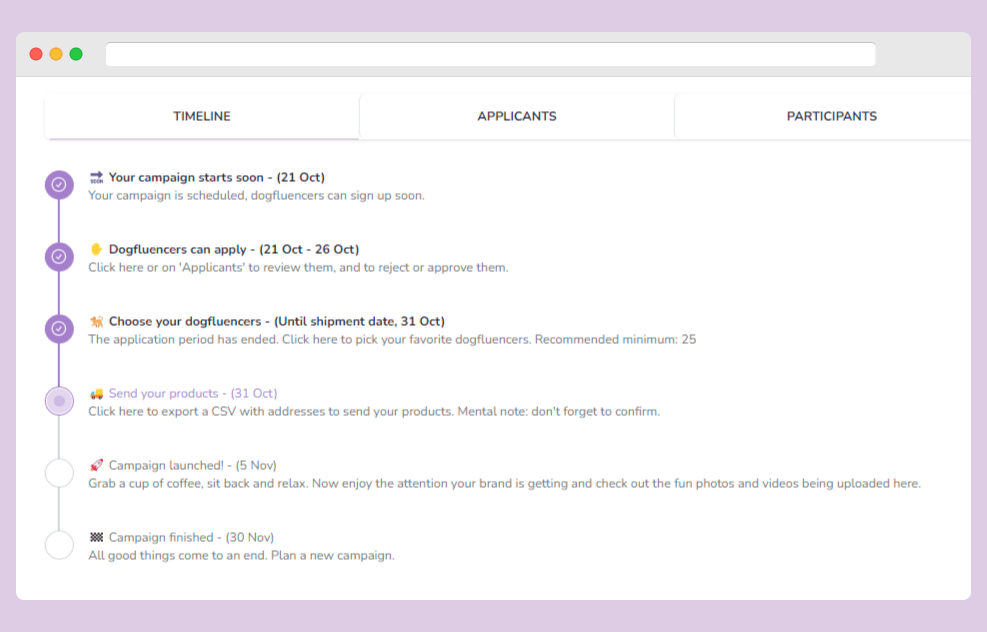 Campaign timeline with dates.
New update in brand accounts. There are now dates at the campaign timeline, so you as a brand manager have more overview.
---
For brands: manual 'mark submitted' (1 Nov. '22)
Sometimes a dogfluencer delivers files via e-mail or WeTranfer, for example, because the file is too large. In such a case, from now on you can manually indicate in the system that the dogfluencer has sent files via another way than through our platform.
---
New pricing (17 Oct. '22)
Since May 2021, we have always offered a free plan. We wanted to keep the barrier to start a campaign low and allow smaller brands to use the platform without incurring direct costs.
In recent months, we noticed that the cohort of brands that were not premium did not always send the products to dogfluencers. This resulted in a lot of disappointment among dogfluencers who, despite not getting paid, were incredibly looking forward to the product when selected. If the product is then not sent it is a real bummer. This is something we want to prevent.
Paying brands did honor agreements. For this reason, we decided to leave the free plan behind, but still offer a 30-day trial. From now on, only companies that are willing to invest in a premium plan can start a campaign. We are convinced that this will benefit the quality of the campaigns.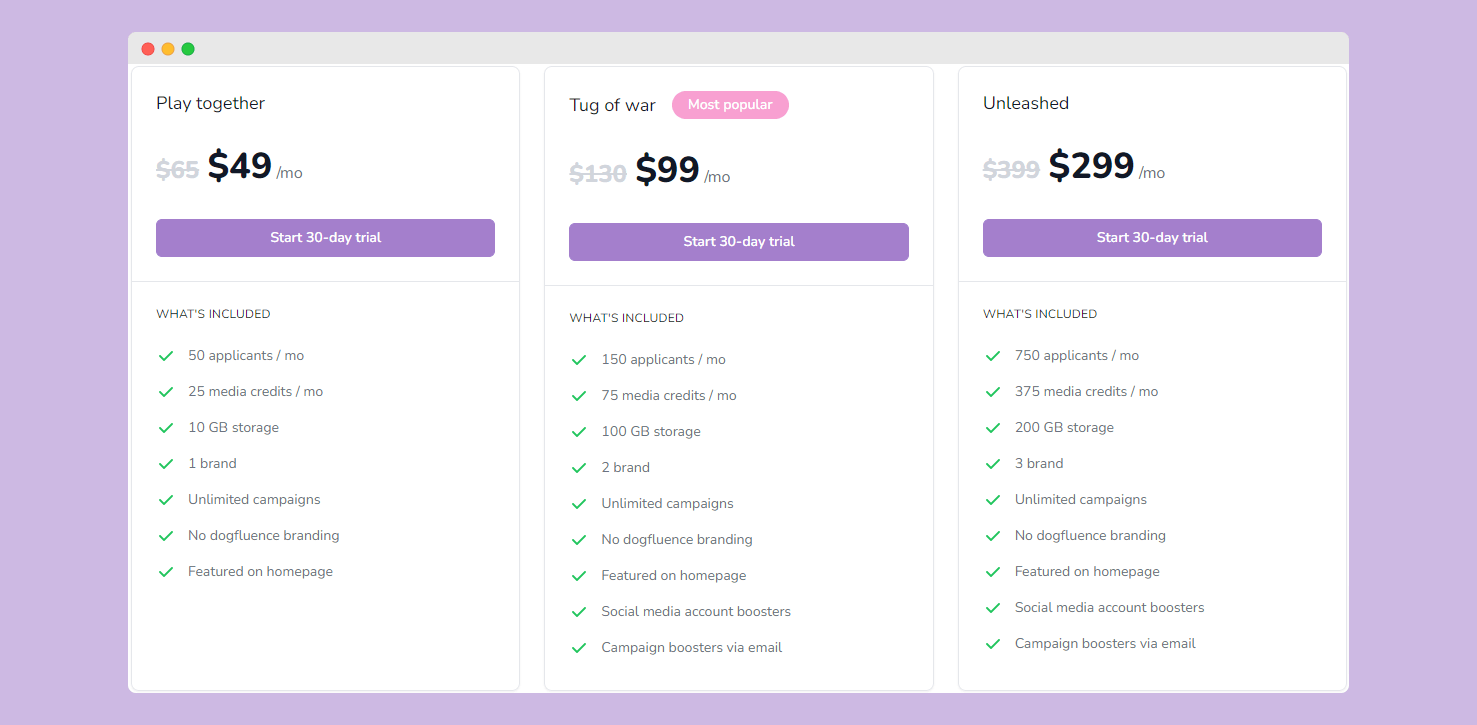 New Pricing Dogfluence.com
We also looked for ways to better reward premium customers for their loyalty, as well as encourage repeated creation of new campaigns.
In the new pricing model, we introduce monthly cross-campaign limits that automatically renew on the subscription renewal date.

Example: Play Together Plan
We discuss the two most important limits.
50 applicants / mo.Each month an unlimited number of dogfluencers can sign up for your campaigns, but you can see a maximum of 50 applicants. The rest are blurred out. If you want to see more dogfluencers, we kindly ask you upgrade to a higher plan.
25 media credits / mo.Every month you get 25 new media credits so you can download branded content without watermark. 1 photo is 1 credit, 1 video is 5 credits. If you run out of credits, upgrade to receive more credits immediately, or wait until the renewal date so we can spend your new credit again.
Master Dashboard Brands (7 Oct. '22)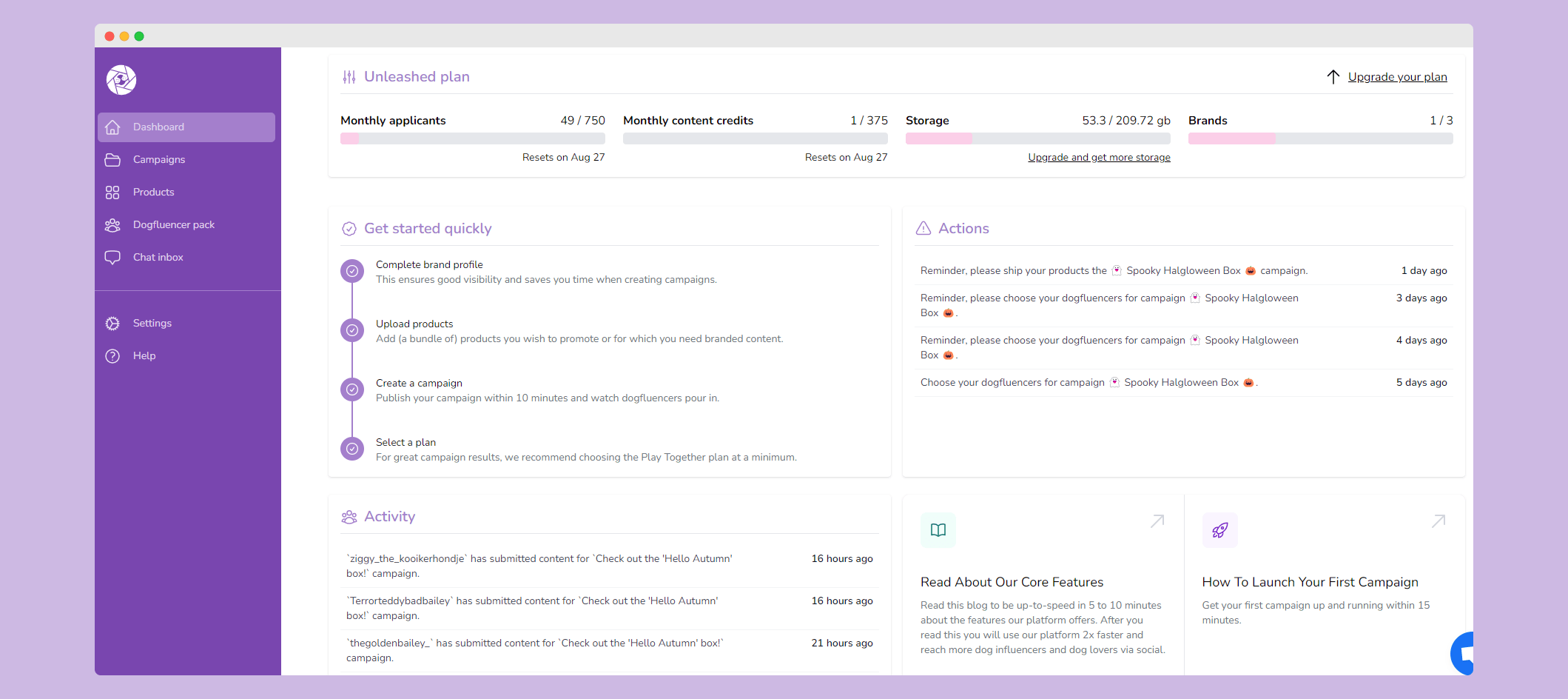 Master Dashboard Brands - Dogfluence.com
Once brands log in for the first time, it is important for brand managers to know what the most important first steps are in order to experience the value of the platform as quickly as possible.
The master dashboard for brands includes the following:
Onboarding roadmap

Following actions to perform.

Activity stream

Help articles for brands
---
Campaign Timeline Template (1 Oct. '22)
Brands now clearly see the different phases of a campaign and in which phase the campaign is currently and what the next step is.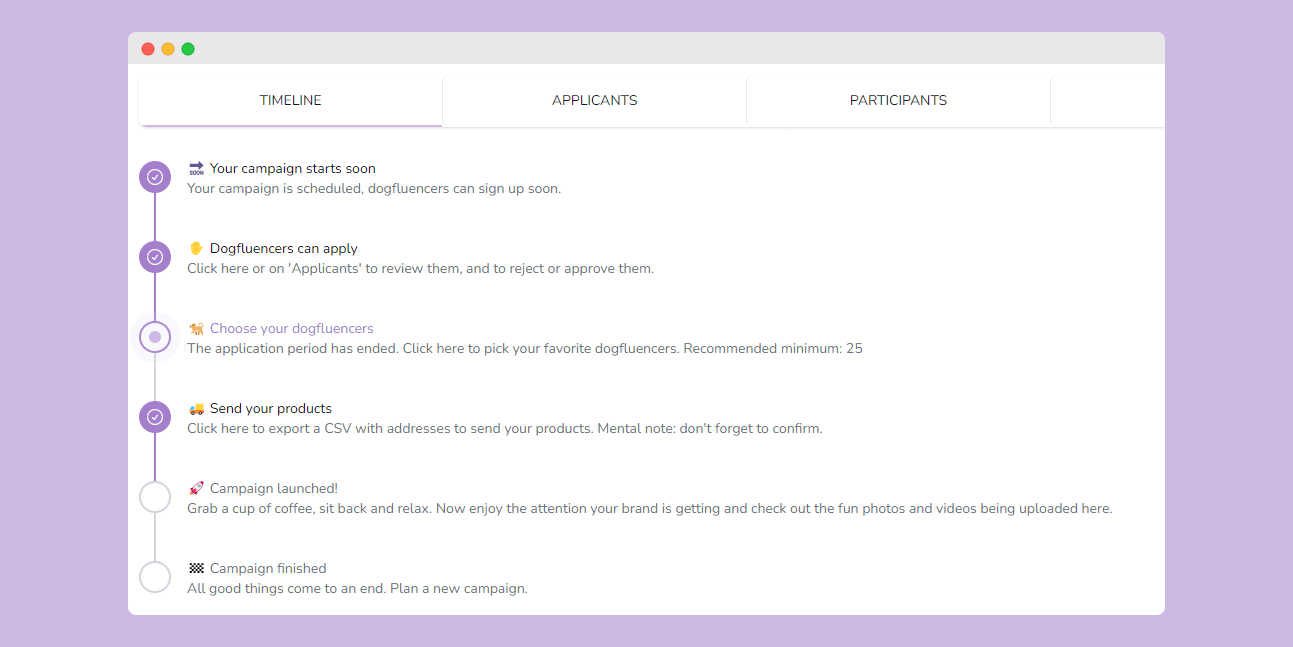 Campaign timeline for brands on Dogfluence.com
---
Improvement Content-Previews (28 Sep. '22)
Photos and videos are now more viewable in brand preview mode. It makes picking out content, for social media or website use, a lot better.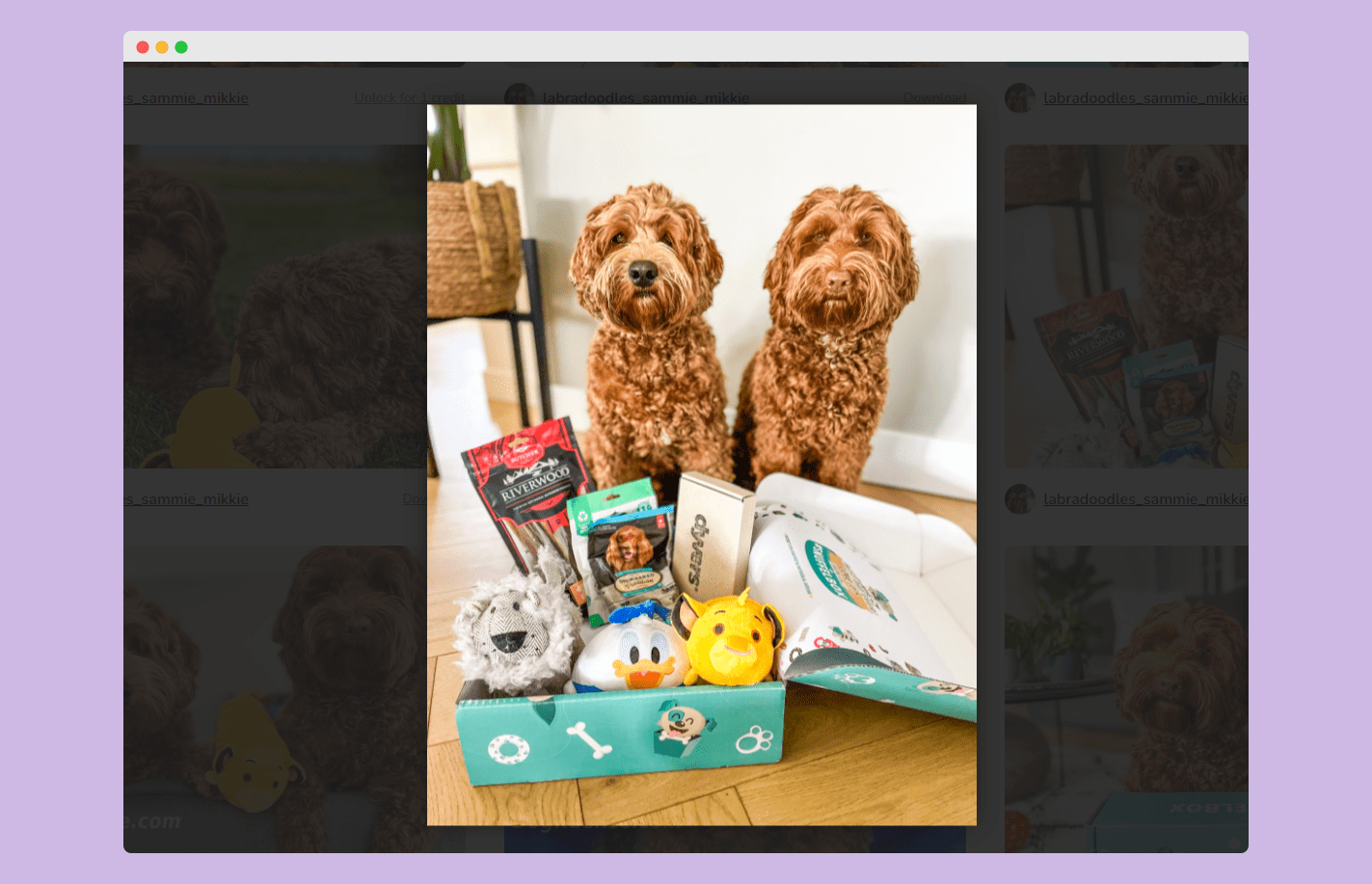 Preview of a photo in a brand-account on Dogfluence.com.
---
New Account Design (24 Sep. '22)
Both the account environment for dogfluencers and businesses now have a different layout, making the platform feel more like a web app.
---
Pricing adjustments (20 Sep. '22)
We've added some promotional things to all premium plans:
Featured on homepage: Campaigns are highlighted.

Social media boosters: Brand accounts with the plan Tug-of-War or Unleashed will get promoted once a month via email blasts to the whole community. This will grow their social media following.

Campaign boosters: Brand accounts with the plan Tug-of-War or Unleashed will get extra promotion for their campaigns because we send out emails to all qualifying dogfluencers.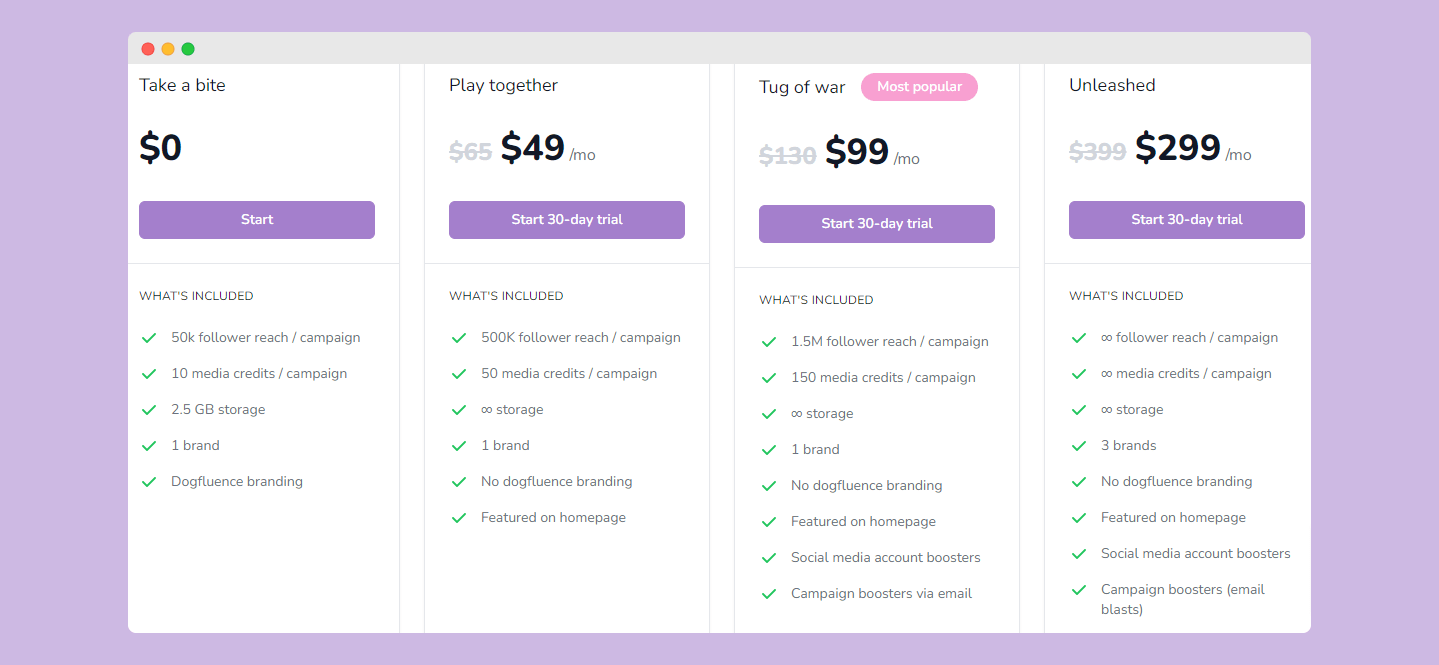 ---
Campaign proposals (24 Aug. '22)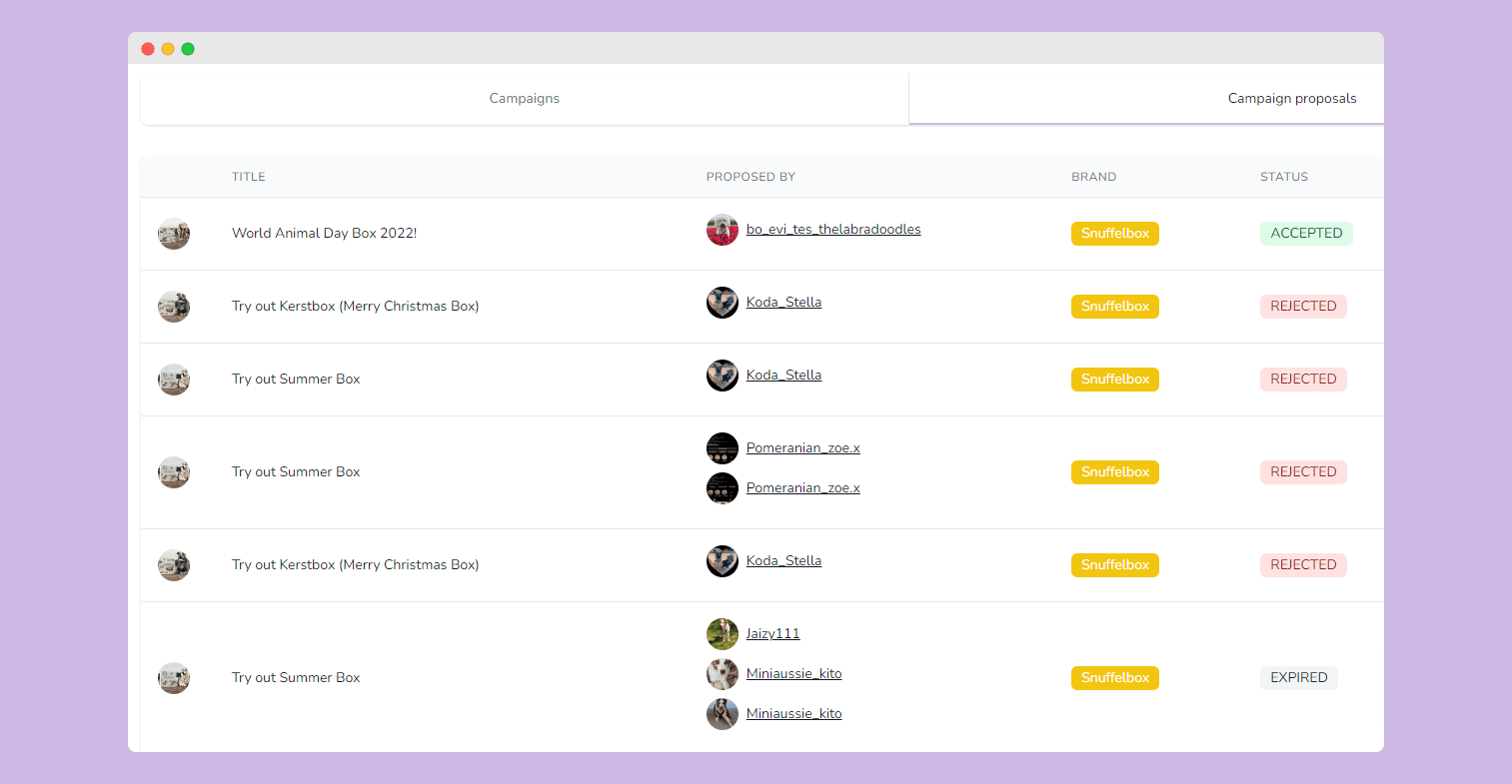 Campaign proposals proposed by dog influencers to brands.
Dogfluencers can now pick their favorite products and create campaign proposals for brands. Brand managers can edit, reject or approve these campaigns.
This feature was live, but has been temporarily put on-hold due to imperfections. We expect to relaunch this feature in November '22.
---
Unsubscribe from group chat (21 Apr. '22)
As a dogfluencer, you can now unsubscribe from certain group chats via settings > notifications.
---
Messaging is live! (17 Mar. '22)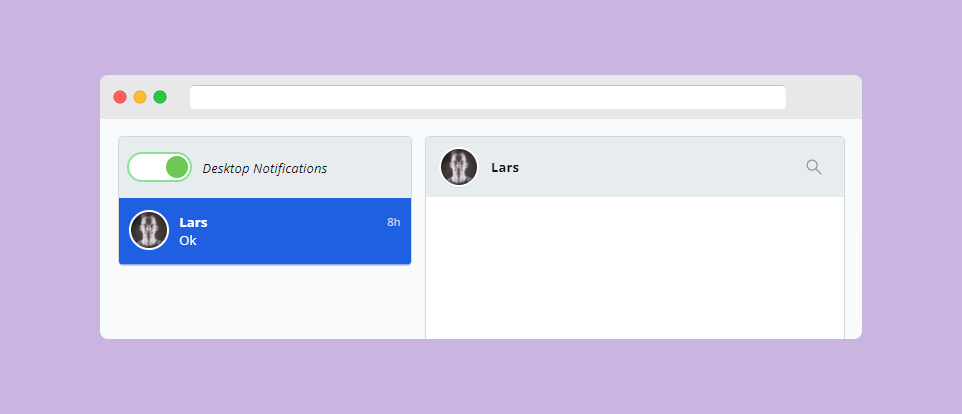 Running campaigns now have group chat (with up to 50 participants). You can go to your chat inbox by logging in and then click 'Chat inbox' in your menu. In the coming week it will be possible to send DMs from more places in the site.
---
Brands: new pricing + media credits (16 Mar. '22)
We have greatly simplified new business subscription plans, which are based more on the value one can currently derive from the platform.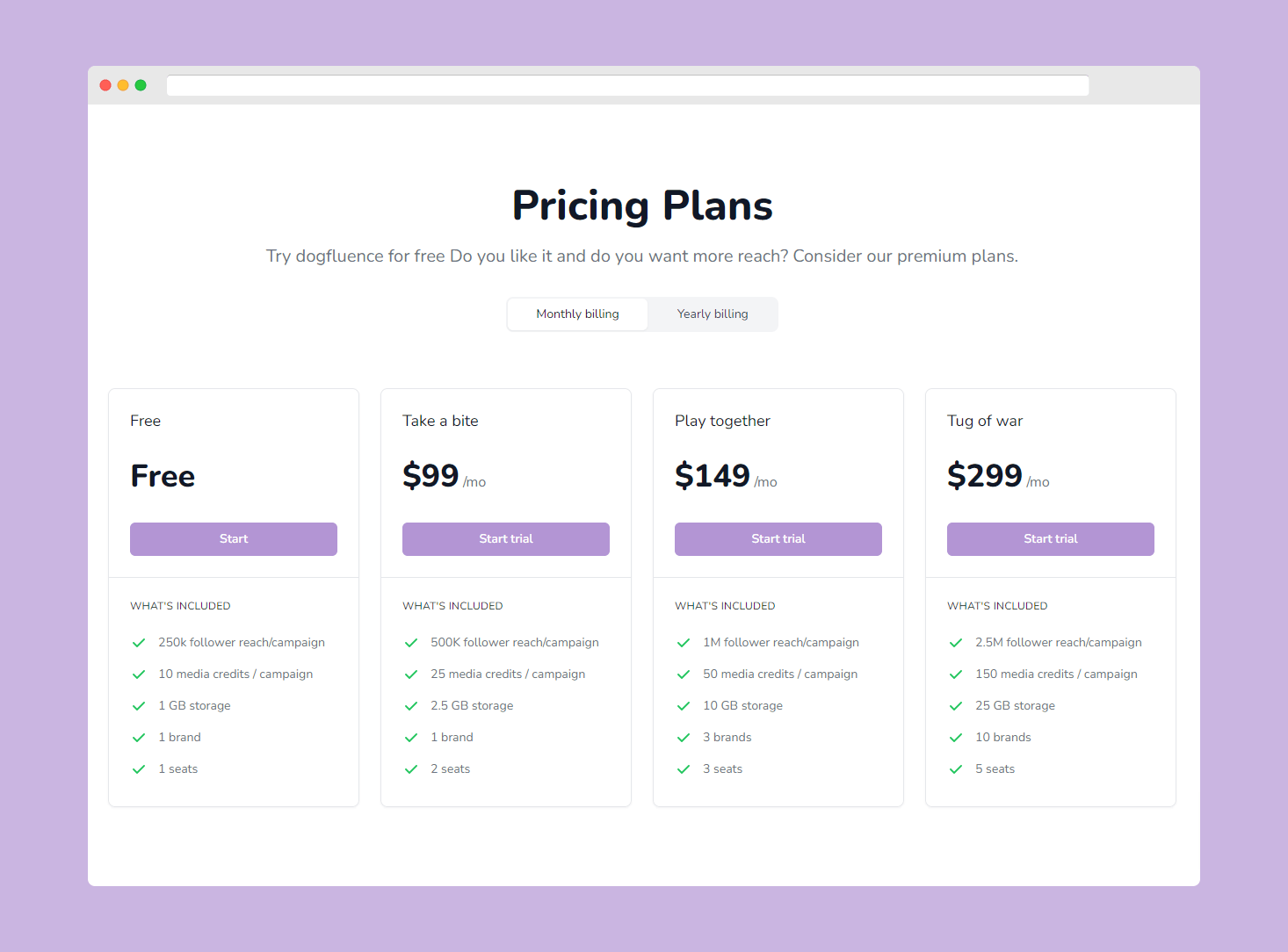 Explanation new pricing
Follower reach per campaign
This is the sum of all followers of the dogfluencers in a campaign.
Media credits per campaign
With media credits, you can buy photos and videos. A photo = 1 credit, a video = 5 credits.
GB storage
This is the number of GB's used by media in your account, uploaded by dogfluencers. Don't worry, we ZIP your files so you can go a long way!
No. of brands
This is the number of brands / labels you can run from one business account.
No. of seats
This is the number of co-workers with which you can work in your dogfluence.com account.
Consider digging a discount
Our yearly plans offer a 17% discount.
---
Google / Facebook login (16 Mar. '22)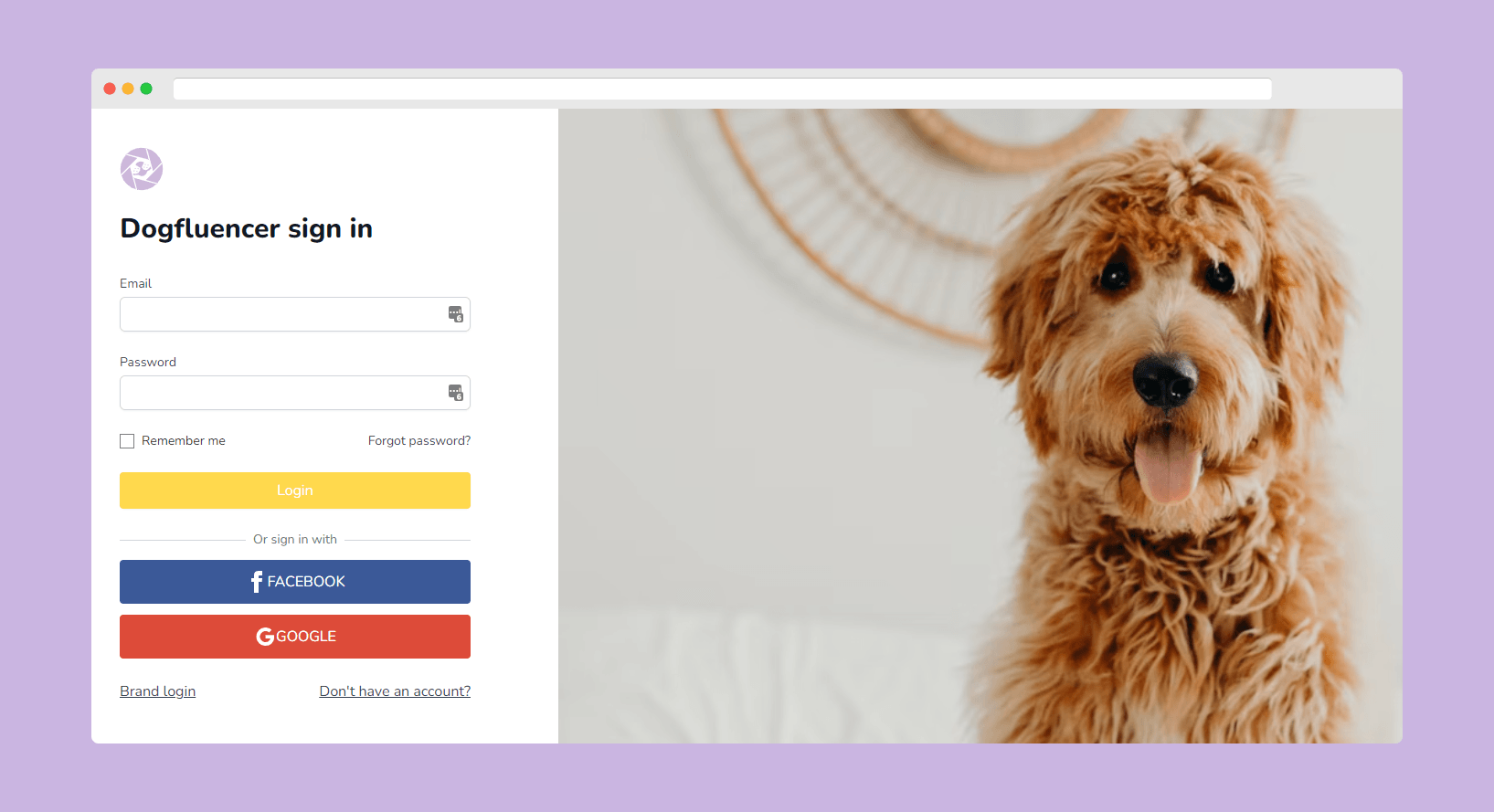 You can now login with Google or Facebook. When you have multiple Google accounts, make sure you choose the one that is connected to your Dogfluence.com account already.
---
Brands: storage overview (15 Mar. '22)
As a business user, you can now see how much GB storage you've used.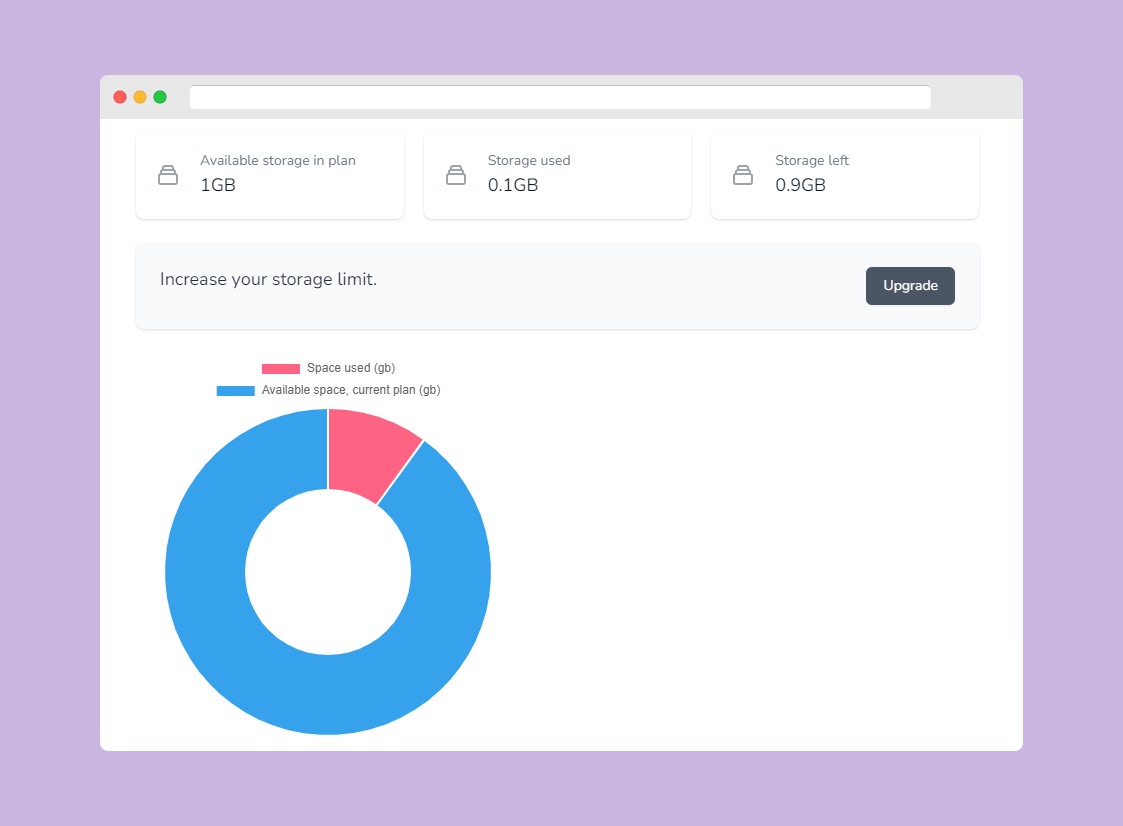 PS: as a dog owner, make sure your dog has enough storage for toys. 🧸
---
Brands: improvements 'Campaign Builder' (14 Mar. '22)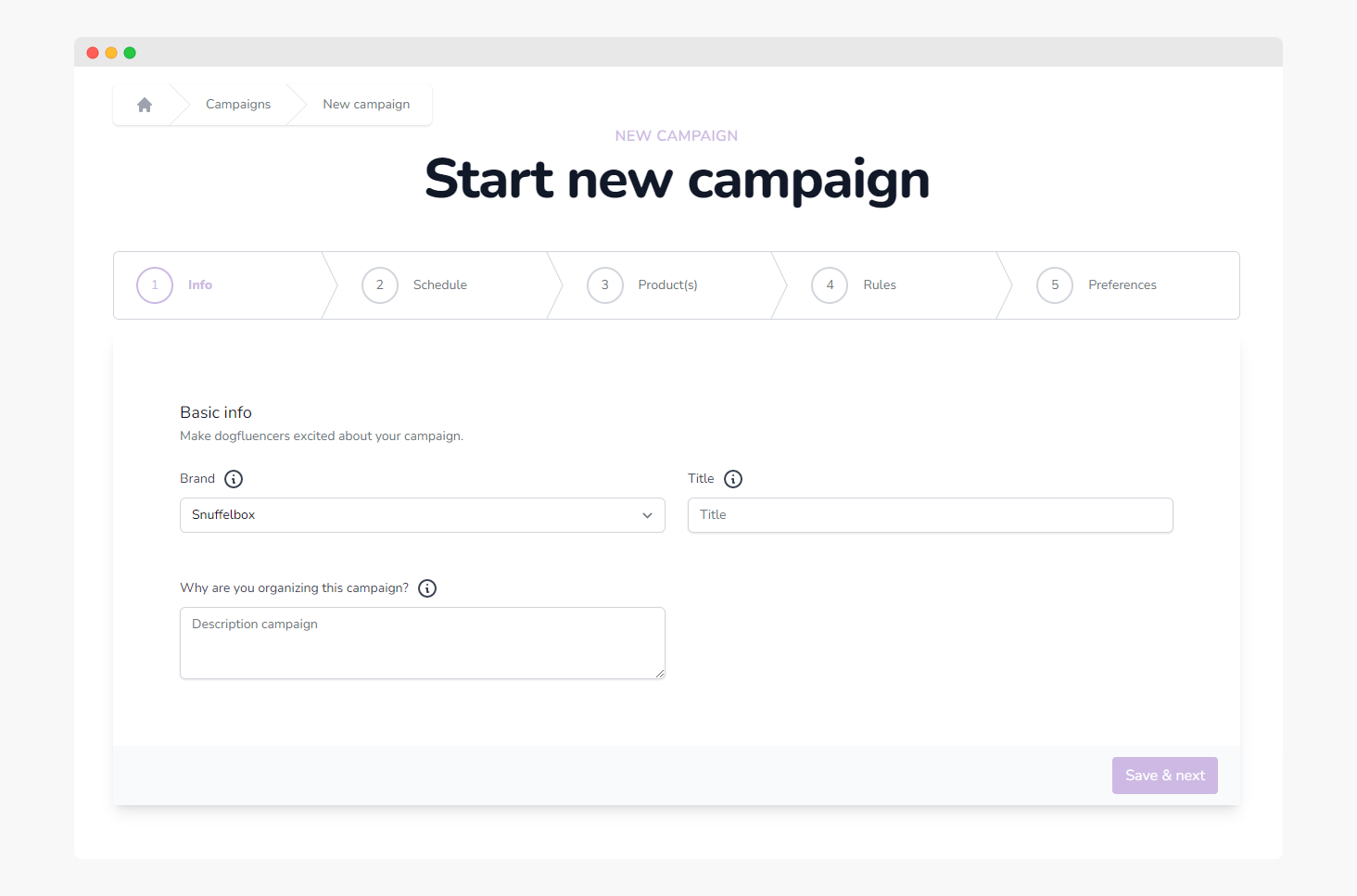 We reduced the number of steps in the Campaign Builder to 5 and we introduced:
Automatic planning

Rule (sub)categories

Pre-written rules
The above improvements result in a time saving of about 50%.
---
Brands: always approve or reject applicants (11 Mar. '22)
Previously, brands had to wait to choose dogfluencers until the campaign registration period ended. That is no longer the case. As a brand manager you can now always approve or disapprove a dogfluencer for the campaign, after a request for participation has been submitted.

---
Brands: improved media view (10 Mar. '22)
When dogfluencers upload content, this will be placed under a campaign under the heading 'media'. Previously, not all thumbnails and videos work, but now this problem has been solved.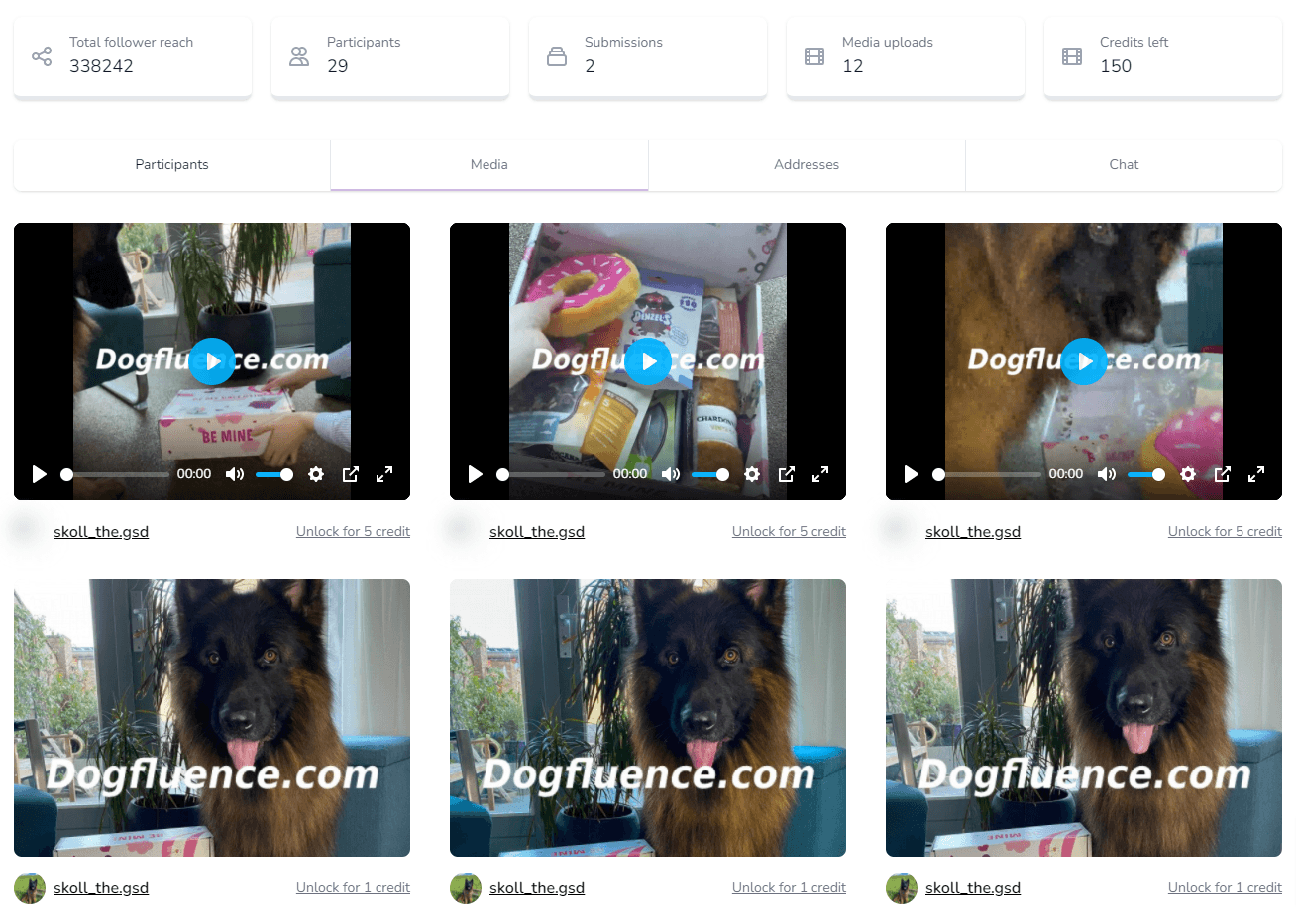 ---
Brands: send track & trace links (10 Mar. '22)

It's now possible to send track & trace links to dogfluencers after the product has been shipped.
---
Improvements site design (9 Mar. '22)
We have made the following changes to the design of the site:
All active campaigns are now visible on the homepage;

We have launched a 'Platform' page to make it more clear to brands what they can expect from the platform.

We also created such a page for 'Dogfluencers'.
---
Brands: download invoices (9 Mar. '22)
Brands can now set an email to which we send download links for invoices.