Read this blog to be up-to-speed in 5 to 10 minutes about the features our platform offers. After you read this you will use our platform 2x faster and reach more dog influencers and dog lovers via social.
---
Feature #1: Add Your Dog Product Range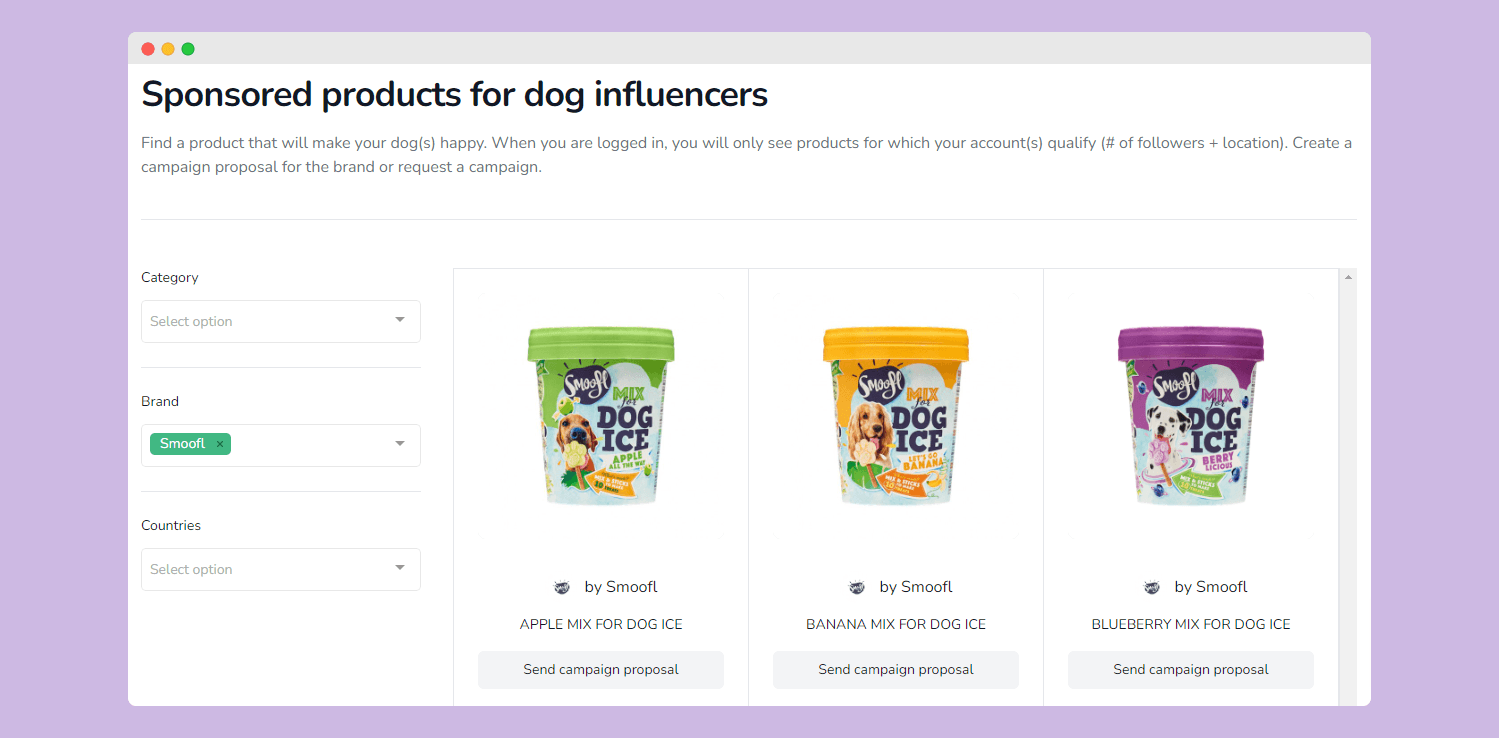 Smoofl products showing up as opportunities for dog influencers.
Why add my brands' products?
Visibility within influential dog owner community.

Dog influencers can find your product via the opportunies for dog influencers tool.

Good for your SEO-strategy.
Best-practices
When you create a product, make sure to fill in all the fields;

Use high-quality (lifestyle) photos, but make sure the file size is small;

After adding the first product, make sure to check the listing on the front-end of the website. If you are not happy with the way the product is displayed, change the photos or markup of the text in your account. If you need any help, don't hesitate to reach out to us.
Quick links:
---
Feature #2: Start Dog Influencer Campaign
Our platform revolves around dog brands organizing campaigns. This is by far the most important feature.

Your dog influencer campaign will show up on our homepage.
Why start a campaign?
Get hundreds of dog influencers to promote your products;

Potentially, reach hundreds of thousands of dog owners via social;

Crowdsource authentic & high-quality branded content for your own marketing efforts;

Get public online reviews on sites like Google.com or Facebook.com

Receive personal product feedback to learn from.
Best-practices
Make sure to sponsor (a bundle of) products dogs (and their owners) will love!

Brief your dogfluencers properly. Our system will provide you with pre-written rules that you can edit;

Don't make it difficult in your head. Creating a campaign is super easy and will take only 5 to 10 minutes.
Quick links:
---
Feature #3: Get Campaign Proposals
Dogfluencers can create campaign proposals for your brand, which is a time saver for you as a brand manager.

Campaign proposals overview in your account.
What are campaign proposals?
Dogfluencers create a complete concept campaign for you, including campaign description, schedule, product(s) to be sponsored, campaign requirements and dogfluencer targeting. As brand manager, you can accept, reject or modify each campaign proposal as you wish.
Quick links:
👉 Learn more about campaign proposals
---
Feature #4: Add Dogfluencers To Your Pack
A nice handy feature is being able to add dog influencers to your own dog influencer pack.

Create your own list of favorite dog influencers.
What is my dogfluencer pack?
Dog influencers in your dogfluencer pack are basically account that you want to work with more often. Dogfluencers can apply to get into your dogfluencer pack or you can invite them.
Why have a dogfluencer pack?
These accounts will show up on your company profile on Dogfluence.com;

These accounts will be automatically accepting into your campaign once they register for it. Of course, you can always revoke their access retroactively if you want to.
Best practices
Before you allow a dogfluencer into your dogfluencer pack, make sure you have worked with him or her first.

When you are super happy with a particular dogfluencer, consider inviting him to your dogfluencer pack by sending him an invitation to collaborate through his profile.
Quick links:
---
Feature #5: Dogfluencer Search Tool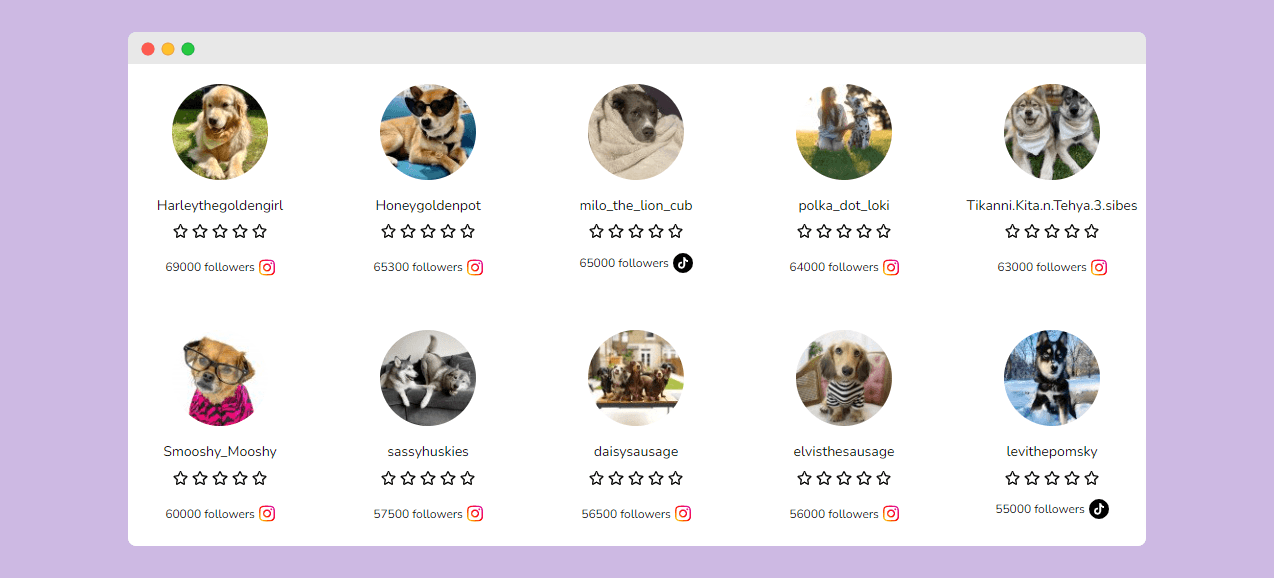 Dog influencer search tool.
Want to collaborate with one specific influencer? Or would you like to invite your own dogfluencers to participate in your campaign? In that case, you can use our dogfluencer search feature.
Why search dog influencers?
To invite specific dogfluencers to your campaign;

To work with them 1-on-1;

To send them a DM;

To invite them to your Dogfluencer Pack.
Best-practices
Make use of the filter above the Dog Influencer Search Tool.
Quick links: