Can't get enough of dogs? And would you like the ultimate overview of all social media sites and apps that feature dogs? Then we have the list for you! Scroll down and discover our top 25 dog websites and dog apps that you need to know about.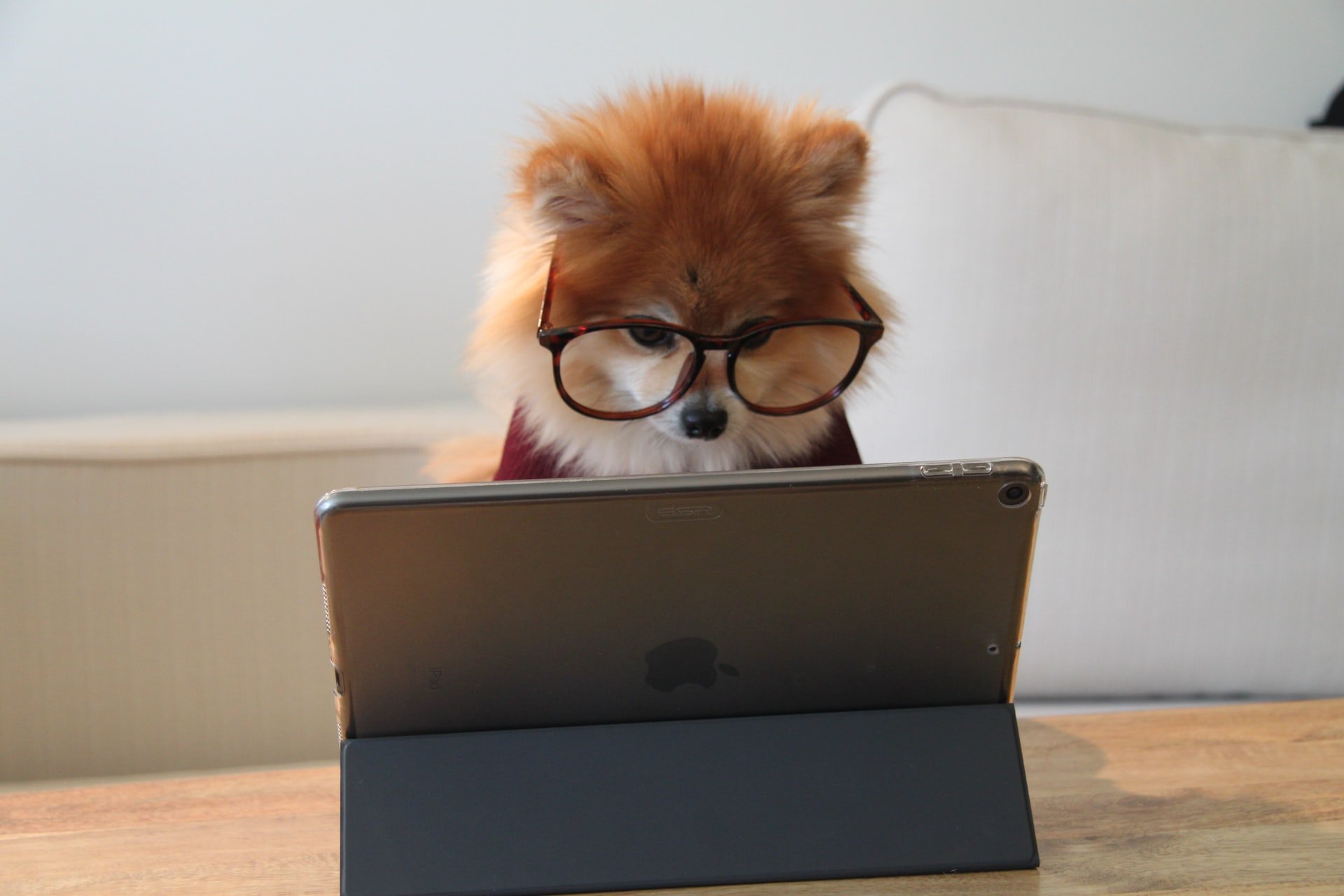 Dog searching for new friends on dog social network sites.
Is there social media for dogs?
Tons of social media apps exist for dogs, but the question is, which ones are worth your dog's time? Most importantly, your pooch wants to make friends and connections, and, possibly, even attract sponsorships. We've listed the leading dog-friendly sites and apps that your pooch (and you) will love. The best part? Your furry friend can quickly and easily create a profile on their iPhone and start snapping selfies and uploading videos that will attract more dog friends. So, whether your pooch is searching for a girlfriend (puppies for you!), on the lookout for doggo friends in your area to attend his next birthday party, or wanting to gain followers to, eventually, monetize his content… dog social media apps can work for you. I mean, your dog.
---
Top 15 Dog Social Media Websites
1. Petzbe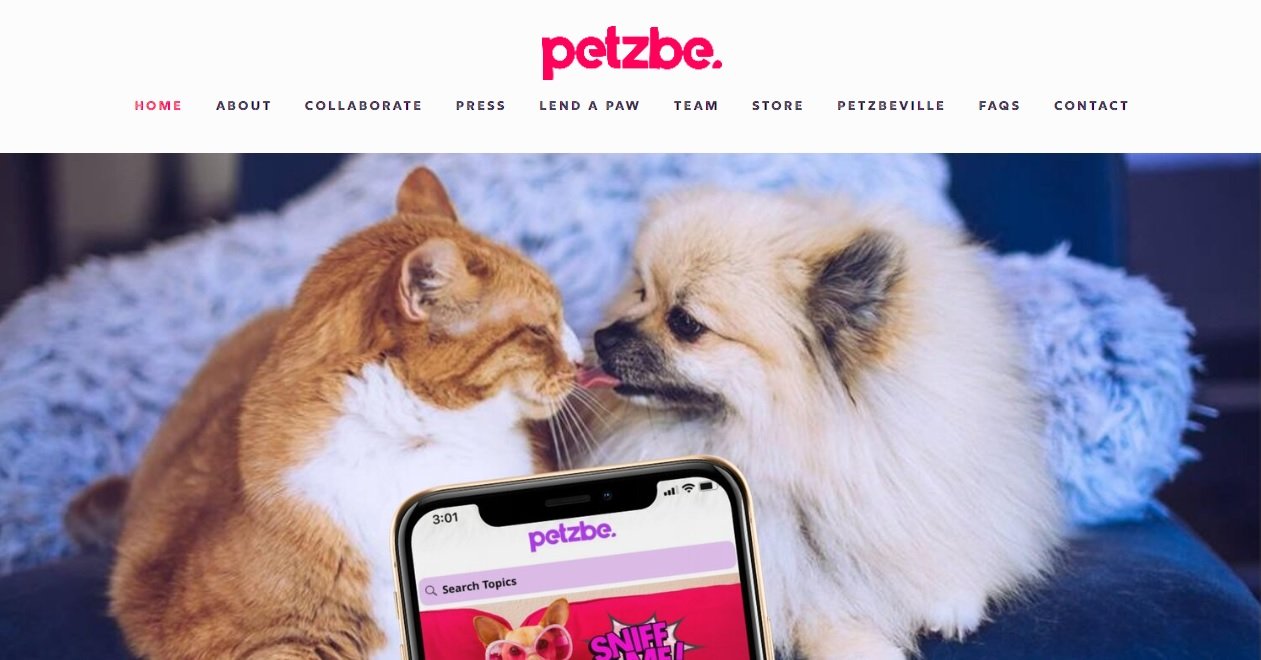 A lot of apps have a parent website, with the social side done on the app. Petzbe is one of them. On the website, you'll find information and videos about the company, the causes they donate to, collaboration possibilities, and exciting videos about their new game Petsbeville.
"Petzbe is the TOP social networking app created by pets FOR pets! Whether you're snuggling, sniffing, snoozing, snacking, scratching, snorting or just being incredibly SMOL… we are all about sharing your very own PET pawspective."
This is a popular app with over 10K+ downloads. However, sadly, no humans are allowed, so we're not quite sure what goes on inside.
Get your dog to visit the Petzbe website or download the Petzbe app (because no humans are allowed to!)
2. Pawsr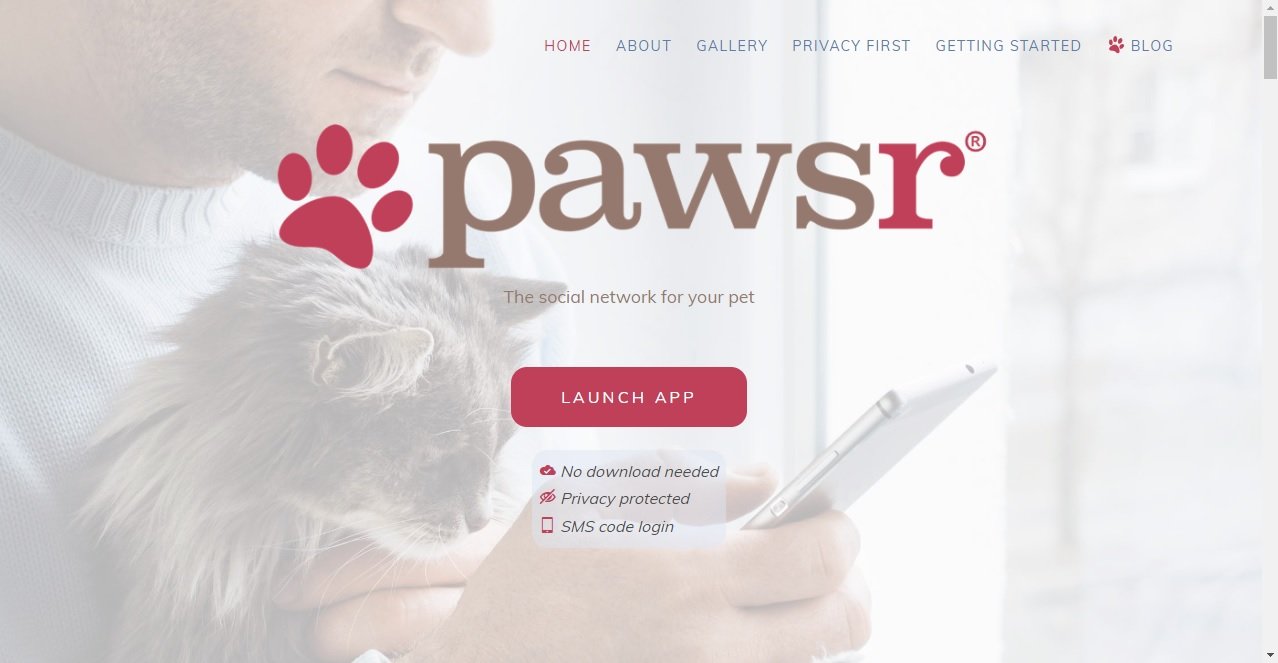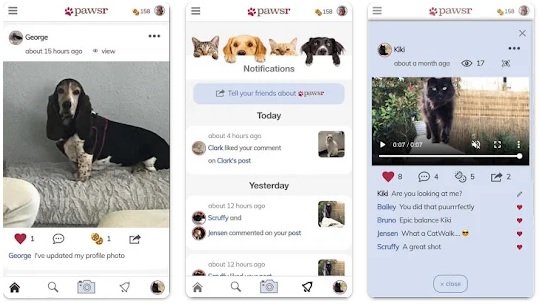 "Pawsr is a photo and video sharing social network just for pets. It provides a happy & safe environment for sharing cute photos and videos, just for cats, dogs and other paws."
Your dog can like and comment on other dogs' posts and even socialize with other types of animals—birds, hamsters, even cats (heaven forbid!)
3. Yummypets
"Join Yummypets, the largest online community of pets and their owners. Yummypets is a family of 2 million pet lovers from around the world. We're just waiting for you!"
Sign in or sign up—but definitely get your hound to browse to Yummypets' website and check out the resources they have. From surveys to competitions to finding a vet nearest to you, Yummypets is the most popular social network on the Internet and we can see why.
4. DogGoWuf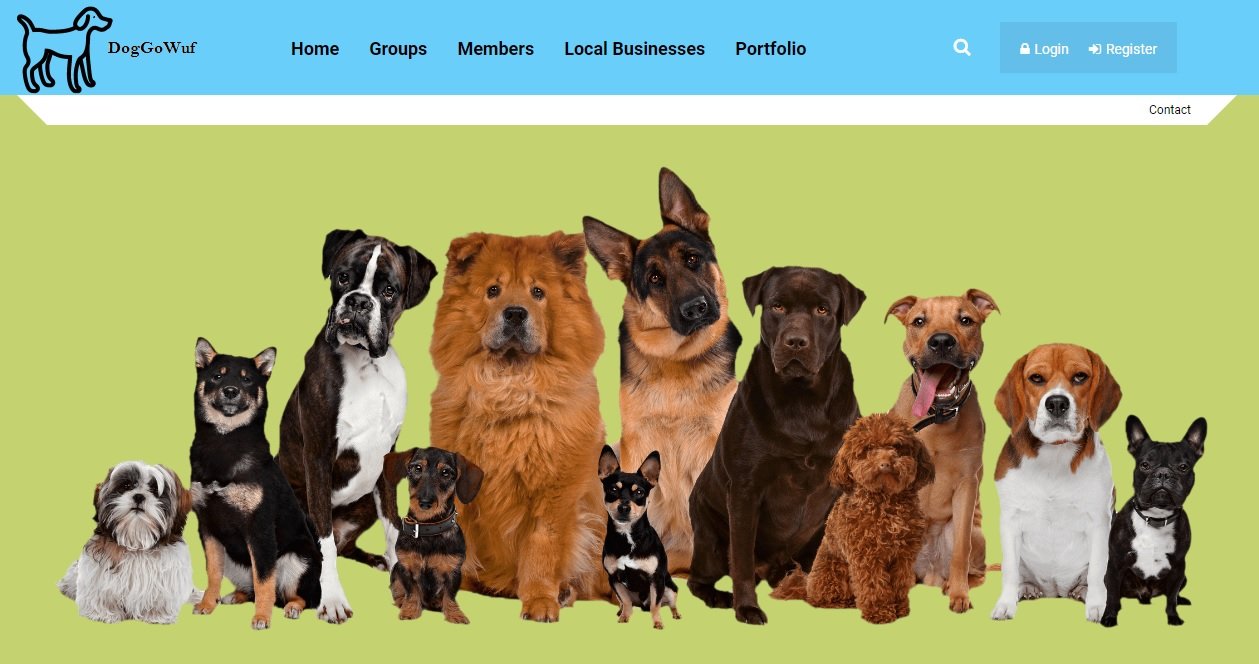 "Social Website for Dog Owners to get to Know Other Local Dog Owners. You can Share Pictures of Your Dog(s), Arrange Meetups to Socialize Your Dog(s), Ask/Give Advice."
It's a simple site but cute. DogGoWuf doesn't currently have a mobile app, so the website is perfect for people who are not app savvy.
5. Bauwow

Bauwow is one of the best pet social media websites. You can register your pet from the website and explore all the valuable resources on the site. They also have an app that is available from Google Play Store.
6. MatchDog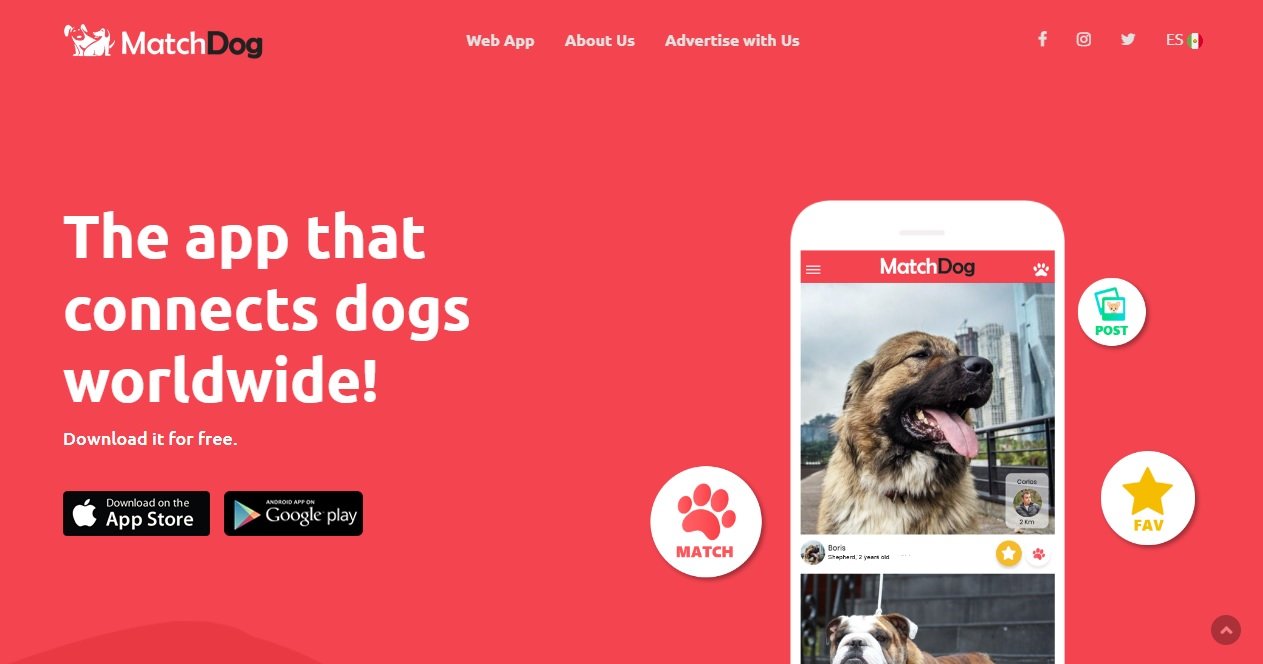 "Matchdog is a social network for dog owners and their lovely dogs. We connect dogs worldwide into one loving and fun community. We help to find the perfect Match or playdate for dogs. Our mission is that our users share their love and care for their dogs and to connect them worldwide."
MatchDog punts their app, but they also have a web app that you can use. Have the best of both worlds—access both, the web app and the mobile app from the Google Play Store.
7. Petshare

"Free pet-caring solution. Connecting voluntary carers with pet owners and animal shelters."
This site is a social network for pet carers and owners. And you can sign up as either one. It's free and easy to use, and your dog will like it too. (That's the most important thing!)
8. MyParkPals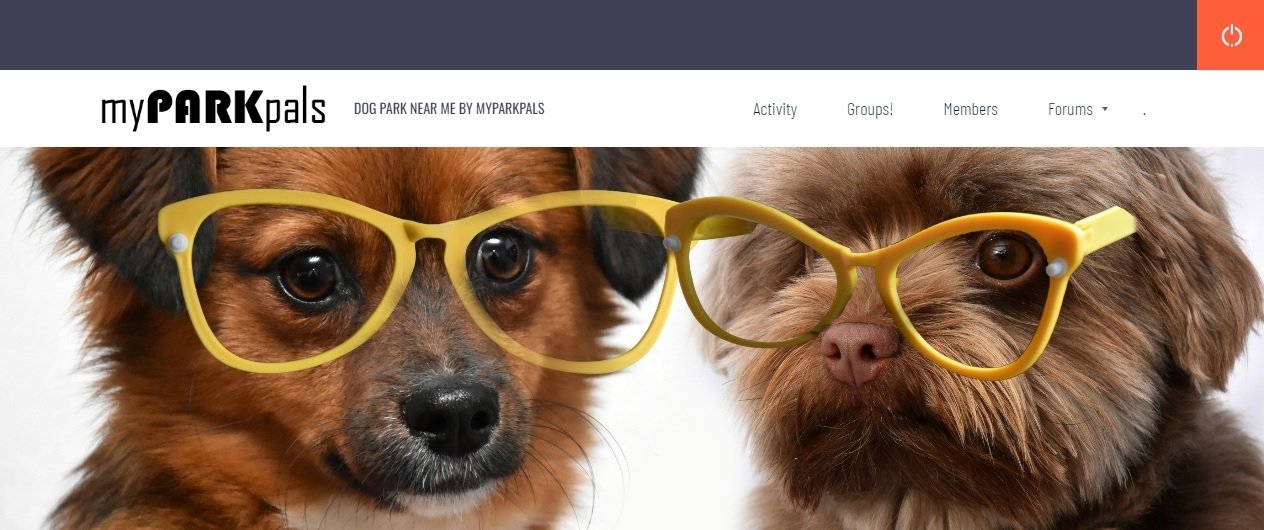 "ParkPals Dog Park Near Me. My Park Pals is a place for dog owners to get together and share experience, find answers to common and uncommon questions using our forums, search our database of dog parks around the country, and join together to stop animal cruelty."
Besides the social aspect of My Park Pals, you can also adopt a pet, foster an animal, or volunteer to work at a shelter. But let's not take the focus away from the main purpose of the website—to find pals for you and your doggo to walk with.
9. BarkHappy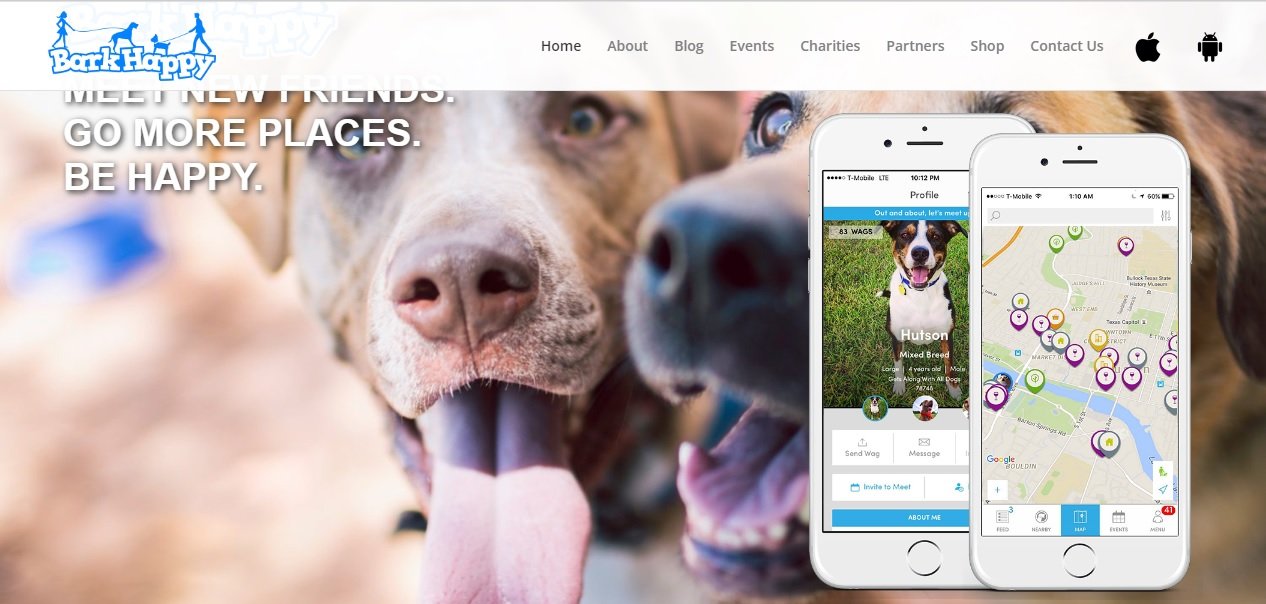 "DISCOVER THE DOG FRIENDLY WORLD AROUND YOU! Explore Dog Friendly Places and Events, Connect with Dog Owners Nearby, Even Lost and Found alerts and Deals!"
Like most social media websites, BarkHappy's main focus is their app. However, a lot of valuable resources can be found on their website. From their blog to their events to their online shop and the charities they support, BarkHappy is a website worth visiting.
10. Petmire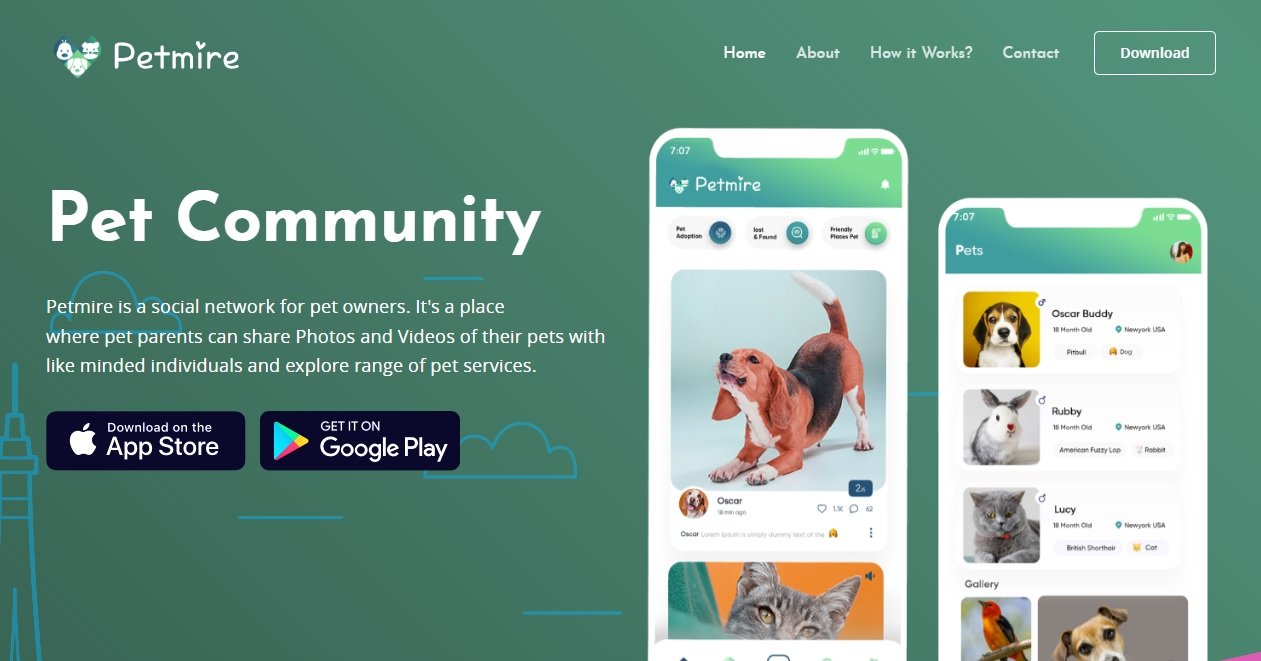 "Imagine a community of pets where you can connect with other pets and have others connect with your pets. Petmire – Pet Community is just that. With Petmire, you can create a very useful social community of pets to share precious moments of pets. We love pets and we believe that pets make us better human beings each day. While connecting with pet lovers on Petmire, you have a feature to post, share, comment and get connected with any pet lover. We are building a useful and friendly community of pet parents."
Petmire primarily promotes their mobile app, but you can read about their company and download Petmire directly from their website.
11. Petbar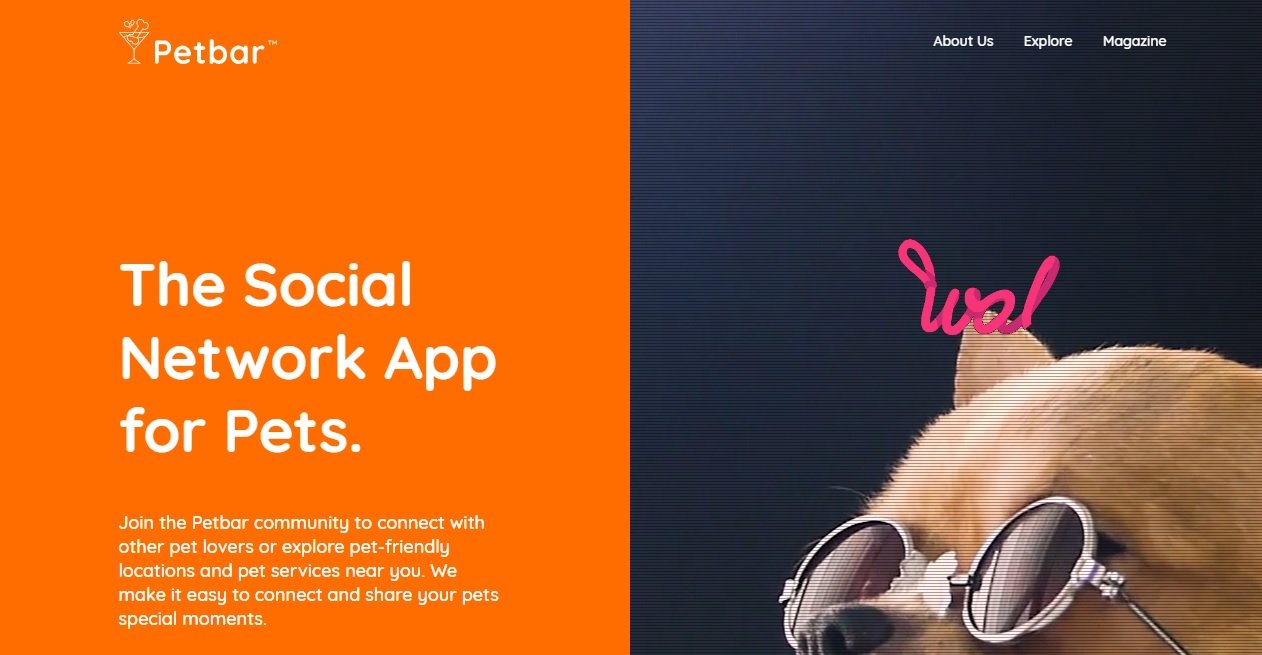 "Join the Petbar community to connect with other pet lovers or explore pet-friendly locations and pet services near you. We make it easy to connect and share your pets special moments."
Petbar is a super classy website, and they also have an epic app too. On their website you can subscribe to their newsletter and read their Petbar magazine.
With the app, you can chit chat with other dogs, view videos, and upload your own videos.
Now, the next few websites are social media sites, but not specifically for dogs. However, if you adore your pet and want to make him a star, consider starting an account on the popular social networks.
12. Instagram
If your dog is a networker and socialite, consider setting up an Instagram account for your pooch so that he can become a pet influencer. If brands find him as cute as you do, he'll make a few bucks. (Maybe even A LOT of bucks!)
13. Facebook
Does your dog like to tell people about his day? Start a Facebook page for your pup and watch the followers roll in as he uploads adorable snaps of himself.
14. Twitter
Let your hound have his say on Twitter. People on Twitter love a talking dog.
15. YouTube
To save the best for last, YouTube is a great way to get your pet out there. And if you have a content strategy, your pet could be famous in a year or less.
Most importantly, don't use all the social media platforms at once. Pick one or two and then start to create content. After you've gained a following on one of the platforms, pick a second platform and bring your current followers over. It's a doggy dog world out there.
---
Top 10 dog social media apps
1. DogCha!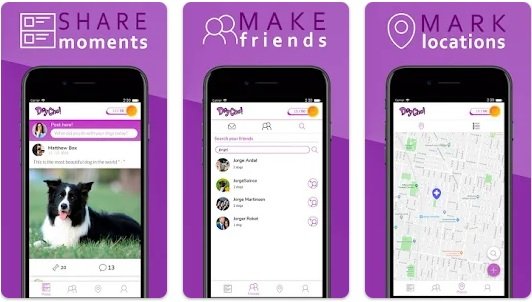 "Imagine a tripadvisor and facebook for dogs! DogCha! is an app for those of us who share our lives with dogs and other pets by merging Facebook with Tripadvisor.

Make you and your dog(s) live a social experience with DogCha! An app for those of us who live life with them. Share moments on your wall, find friends and chat, rate services and register places of interest and collect doggies to get rewards!"
So, get your pooch to download DogCha! so that he can add dog friends, mark nearby pet-friendly locations, meet up at parks, and, ultimately, "make your dog's walk a more social experience."
2. Petzbe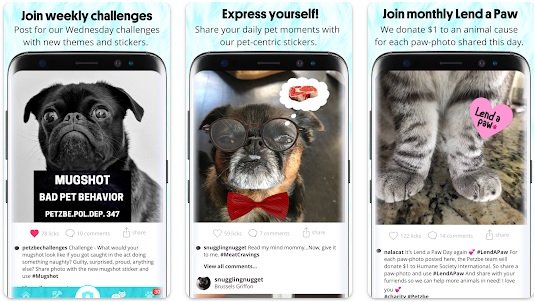 "Snuggling, sniffing, snacking, playtime. It's our world, our app, from our perspectives. Connect with fellow cats and dogs. Share your life. Join our pawsome contests and challenges. Take a little break from your beloved human's silliness. Sniff you in the app soon! No humans allowed."
We've heard from our pets that the app allows them to explore the pet world, join weekly challenges, and express themselves by having conversations with other dogs.
3. Yummypets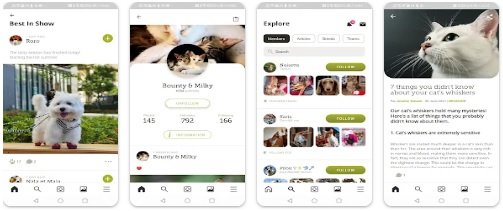 "Yummypets is the foremost social network dedicated to people who love pets. Capture the best and sweetest moments with your pet by sharing photos and videos. Keep up-to-date on the animal world, advice for healthcare and behavior from our veterinarian partners as well as hilarious cat and dog videos."
Like the website, the app is convenient and fun. Engage in discussion topics in the forum, take part in surveys, find your nearest vet, and meet pet parents "via community organized walks & events."
4. Hashdog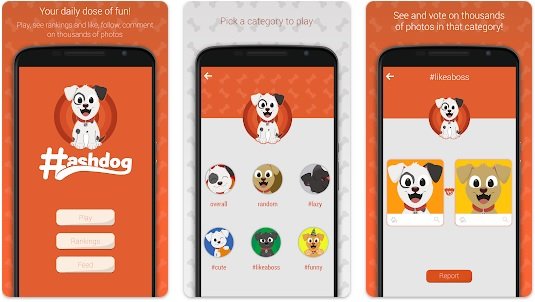 "Hashdog is a photo-centered social network / game for dog lovers! There's a social network where you post photos of your dog(s) and follow, like, comment on any other dog. You can see photos of your friend's dogs and dogs all around the world! Make your dog famous!"
Let your dog have his daily dose of fun on a dedicated-to-fun social network!
5. Flockr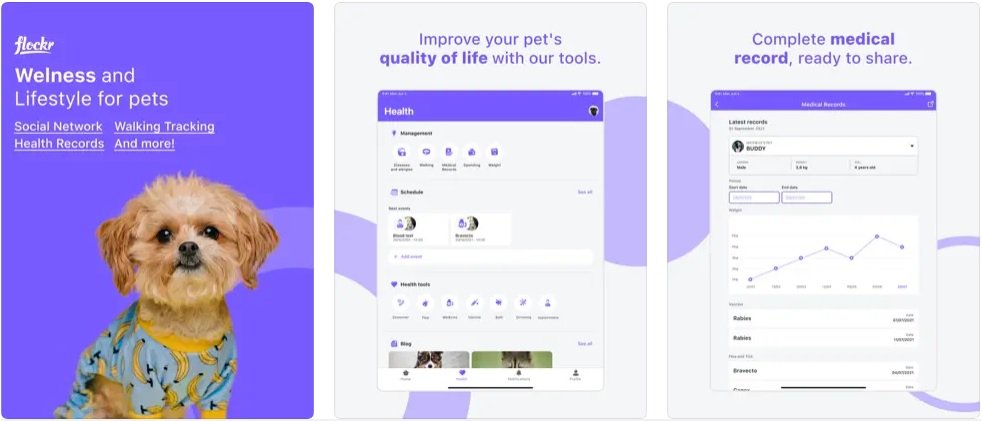 "Flockr was born to facilitate pet care, leaving you and your best friend even more connected. The app was created with the idea of ​​bringing pet lovers together and helping to improve their quality of life. All pets are welcomed, dogs, cats, rabbits, birds, and more!"
This app has health tools, a schedule for your dog, and even a place to add your dog's medical records. You can chat with other pet parents and track your walks. However, some users have complained that a lot of the dogs on the app (and their pet parents) speak mostly Spanish. However, the developers say the latest version is different.
6. App4Pets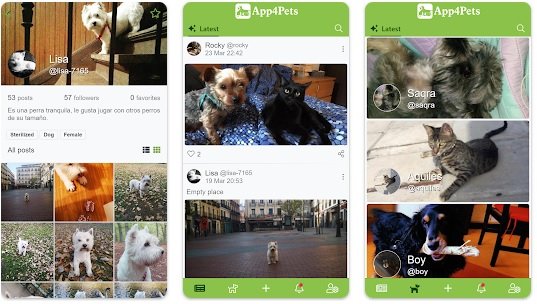 "Are you proud of your pet? That your best friend is a dog, cat, bird, horse, mouse, turtle, reptile or any other animal… discover the world of pets on the App4Pets app."
Does your best friend want a few new pals? You'll discover all kinds of friendly faces on App4Pets. Let your furry friend add his profile photo, and in no time, he'll have friends and followers barking up his tree.
7. PetUp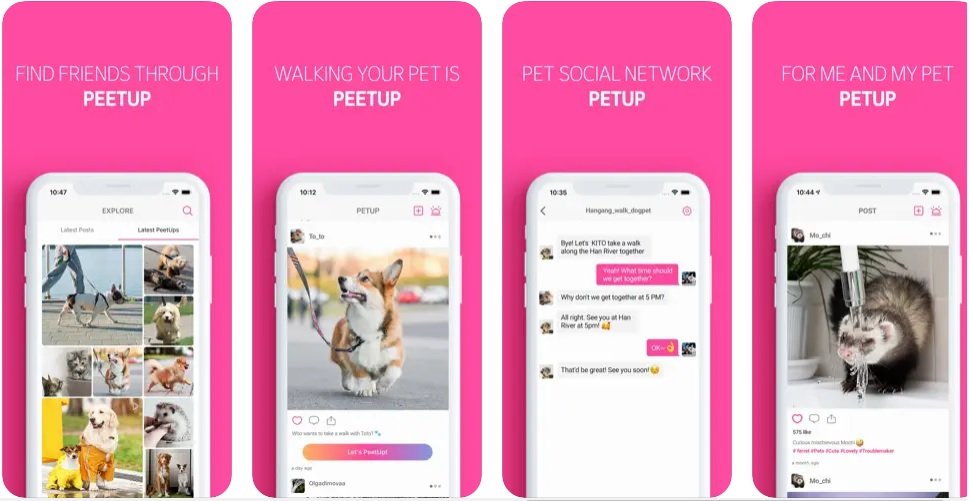 "Our pet social network is a space where you can get closer to your precious pets and your favorite content. Participate in 'peetups' for meeting fellow pet lovers and their besties online or offline."
Engaging in a conversation with a meerkat would be interesting, not so? Well, you'll find all kinds of pets on PetUp. Let your dog chat with other dogs and spend a day making new friends on chats.
8. Upet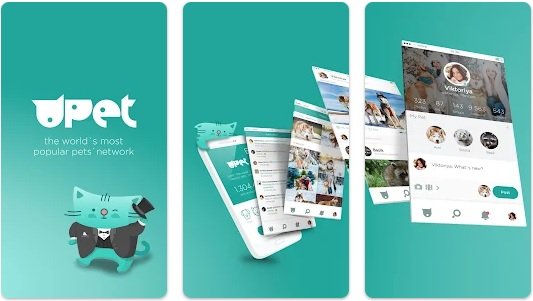 "Upet is one of the most popular social networks for pets in the world. Post the best moments from your pet's life, share photos and videos. News about pets life and funny videos of dogs and cats. Join the community of more than 1,000,000 owners of pets—dogs, cats, reptiles, rodents and all the rest."
We like the look of Upet, but despite the high number of users, there are, according to reviews, a lot of technical glitches with the app, hence the lower rating of 2.8 in the Google Play Store.
Try out the app and decide for yourself.
9. myPetShare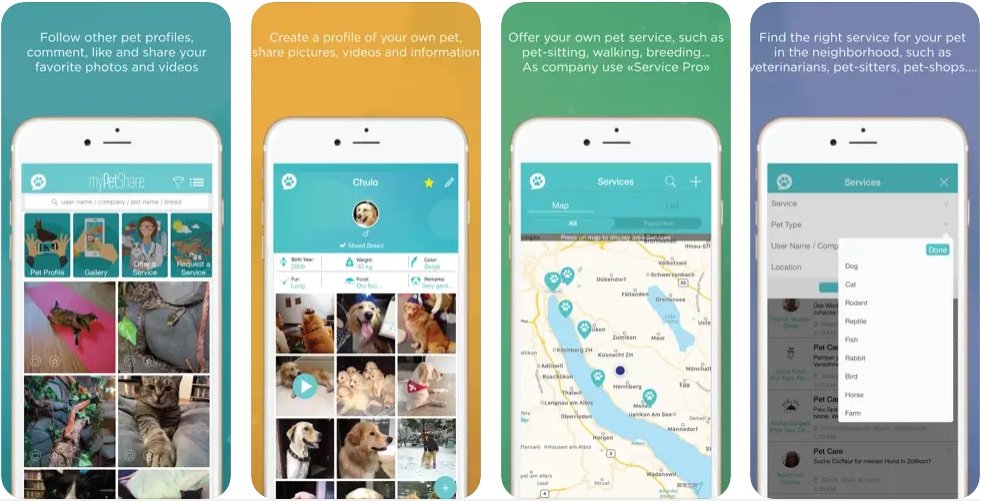 "myPetShare is a social media network application for pets. It runs on mobile devices and allows the user to share pictures and videos and to request or offer services around pets. Users can easily browse through the pet picture gallery, choose their favorite pets and pictures, like them and make comments. Filters for specific pet types, for example, favorites and likes, make it simple to find your preferred pet.
The Service space allows the user to place his own service requests and offers. Typical services are:
- Pet care services
- Pet sitting services
- Pet walker services
- Veterinaries
- Pet breeders
- Pet adoptions
- Pet shops
- Pet hotels
- Pet friendly hotels
- Pet friendly restaurants
- Recommendations
- Animal Protection
- services
The user can search through the Service space, mark selected entries as favorites and contact users with the in-app notification system."
Need we say more? However, despite all the services the app has to offer, it only has a 3.3 rating on the Google Play Store.
10. Bauwow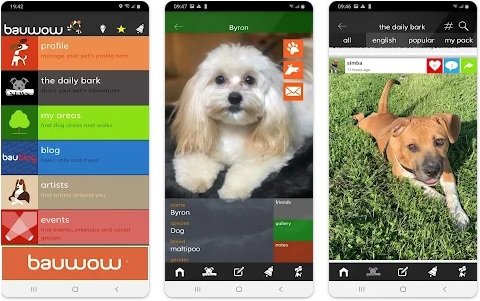 "Everything you can possibly need for you and your dog in one single app? It's Bauwow!"
This app has over 10K downloads and a 4.1 rating. The app's development team is also responsive—they respond to any negative reviews and try to resolve any glitches or problems.
From conversations with other dogs, to events in your area, Bauwow has all the qualities of a great social media app.
---
Bonus: 5 extra social networks for dog owners
1. Petzi
2. Petnion
3. Rooli
4. SocialPet
5. Zamply
Last but not least: Dogfluence.com!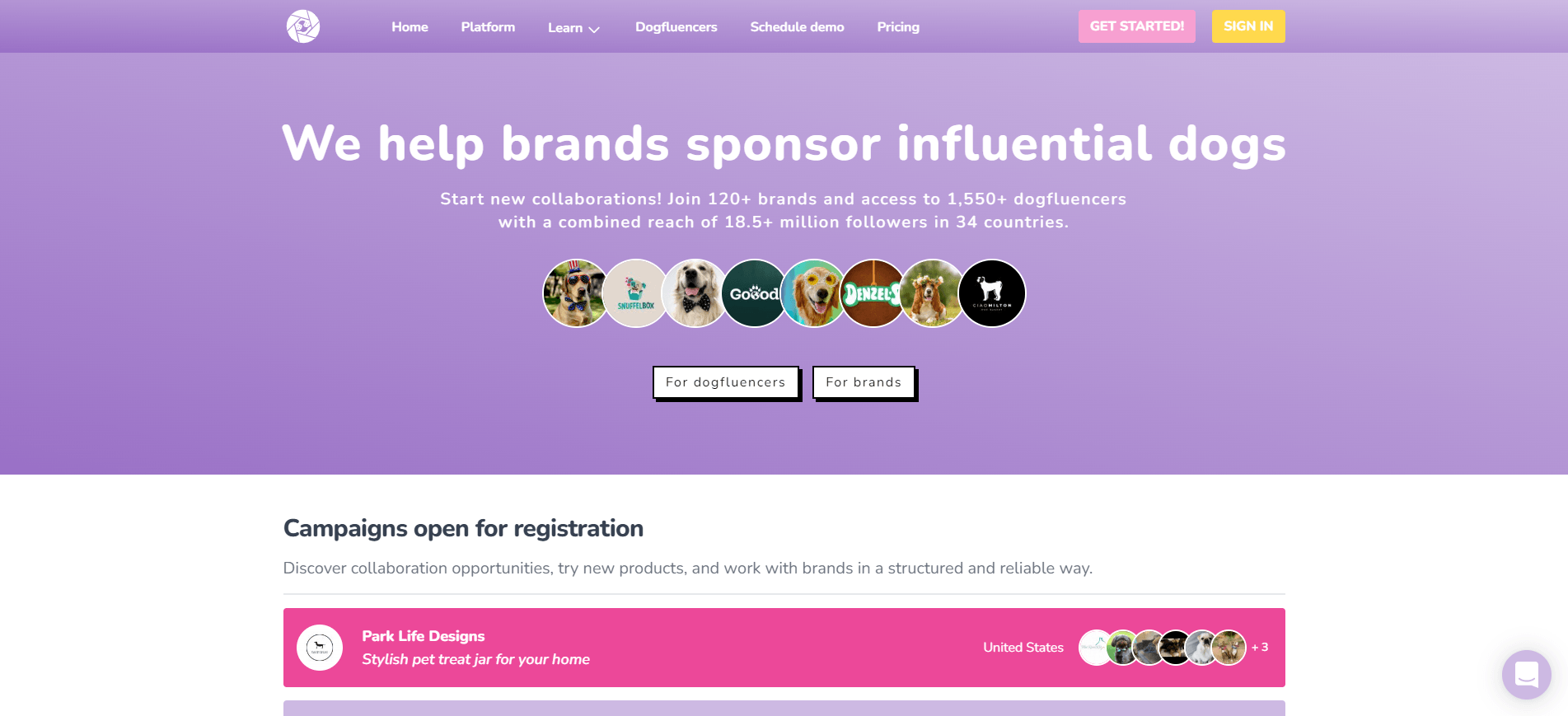 Dogfluence.com: home for dog influencers!
Does your dog already have a decent following on one of the big social networks, like Instagram or TikTok? And do you like to find new brand collabs and try out new products with your dog? In that case, Dogfluence.com is for you!
It's an influencer network website, dedicated to the dog industry. You will find 120+ brands and thousands of dogfluencers like yourself, to learn from and to work with!
Check out all dog influencer opportunities on Dogfluence.com!
Should I post my dog on social media?
Content is still king, so if you have unique and interesting content to share about your dog, then yes, you should consider posting your best friend on social media. However, you need a strategy to be successful as a pet influencer. (Unless you only want to post your dog on social media because you think he's adorable). Most importantly, never share your address or personal information with anyone on social media.
Do Instagram dogs get paid?
Currently, Instagram dogs, or dog influences, get paid via sponsored posts, affiliate marketing, and their own merch sales. Instagram doesn't pay influencers directly, as in the case with YouTube, which pays influencers for ads displayed during their videos. However, Instagram is working on new monetization methods, where influencers could get paid by ads, like in the case with YouTube.
How do you start an Instagram account for a dog?
Dull photos with poor resolution command no attention. Also, photos that look like stock images (impersonal and staged) don't appear genuine and authentic. I've added two photos below to compare. You can decide which photo commands the most attention. If both photos were posted on Instagram, which account would you follow and why?
The black Labrador is lovely, but the owner of Popeye has done a lot of work to make sure he's well groomed, classy, and adorable. Look at that face! Would you follow him on Instagram? Yes... you and another 395K followers!